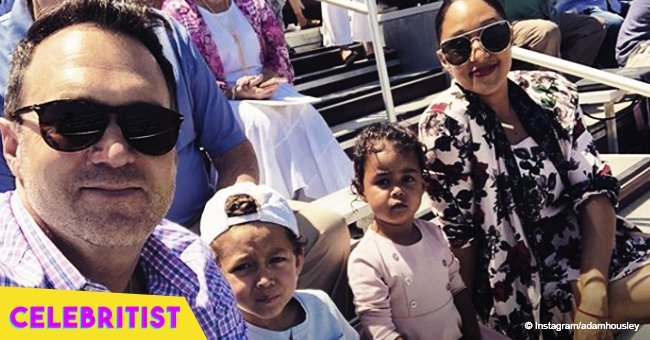 Tamera Mowry's son and daughter look 'mesmerized' while joining pilot in airplane cockpit
The Housley-Mowry family is currently vacationing around Europe, and Tamera's husband, Adam, took the opportunity to give their kids an unforgettable experience on one of their flights.
Aden and Ariah had a great time as they joined a pilot from United Airlines on the cockpit of a plane. The kids, aged 6 and 3 respectively, look mesmerized in a pic shared by their father on his Instagram account as they sat on the flight deck of the aircraft alongside its captain.
Housley had some troubles with predictive text in his caption, which reads:
"The adventure begins and this pilot with @united along with his copilot were amazing. The kids were mesmerized and what's great. Make and female pilots...make and female kids [sic]. One for each! The adventure begins. #thehousleys #famtrav #offwego #cockpit."
Many followers pointed out he probably wanted to write "male and female pilots" and "male and female kids," which makes more sense contextually. Other fans didn't bother about the spelling errors and took to his comment section to praise his parenting skills.
Instagram user @lovekat76 wrote:
"Too cute @adamhousley you are truly blessed with some gorgeous kids. Oh and an absolutely beautiful wife @tameramowrytwo,"
while @katiamarie33_ said:
"One of them will become airline pilot!"
and @sweetness365 added:
"@adamhousley Enjoy and safe travel for you and your family. Traveling mercies."
The Housleys are currently in Lisbon, Portugal, and while Adam has been sharing some pics of their family trip, Tamera decided to unplug from social media while enjoying some time with her family away from responsibilities.
The 40-years-old left a message on her Instagram account talking about the importance of living in the now and encouraging her followers to do the same once in a while. Not without promising she'll be back. She wrote:
"Sometimes it's important to unplug. To focus on the present, your family, meditate and align yourself spiritually. I love you guys. I'm so grateful for the community we have created. I encourage you all to do the same. I'll be back."
We're glad to know Tamera, Adam and their kids are having such a great summer experience, and we can't wait for Tamera to return with thousands of beautiful pictures from their trip.
Please fill in your e-mail so we can share with you our top stories!