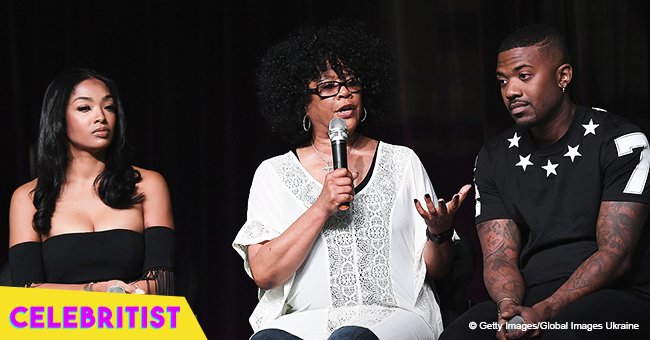 Ray J's mother Sonja gets blasted for 'enabling' him amid cheating accusations

Fans of 'Love & Hip Hop Hollywood' think Sonja Norwood may be taking motherhood a little too. They aren't too happy about her intrusion into her son Ray-J's marital problems. She said a few things to him on the show that's causing many to speak up against her.
Viewers of 'Love & Hip Hop Hollywood' are expressing their annoyance over Ray-J's mother Sonja Norwood who's been meddling into her son's marriage to Princess Love.
A few months back, Princess accused her husband of cheating on her while on business in Las Vegas claiming he was getting a little too friendly with the women there. She slammed the singer on social media and this didn't sit well with Sonja who told her son on the latest episode of their reality show,
"When you take your problems and you present them to the world, it not only just involves you and Princess... It brings me in it, Brandy in it and all the rest [of the family] in it."
"No wife should take their business and put it out on social media when you don't have the facts. It is character assassination… You are trying to build a brand, you don't need a 'wife' out there starting stuff."
Seeing how Ray-J's mother has been enabling him, fans responded by bashing Sonja.
"Women like Sonja are the reason why half of these men are out here refusing to be men. They have their moms enabling them& encouraging bad behavior. It's disgusting,"
"Dear Mother's. ..can y'all please let y'all grown ass sons grow up and be men..hes married nah..back up..please."
"His mom is #Delusional & he cheat bcuz he know his family will always have his back! Princess will leave him when she really gets tired of it all."
Princess suspected Ray-J was cheating on her when he posted a video from his Las Vegas hotel room in January where a woman in a red robe was visible in the background. Ray-J claimed the woman was with one of his friends, but Princess didn't seem to buy it. Instead, she deleted all of Ray-J's pictures from her social media account and posted this meme.
"The problem is women think he will change, he won't. And men make the mistake of thinking she will never leave, she will."
She also added this caption throwing shade at her husband.
"Keep foolin the world but you can't fool me anymore."
Princess moved out of their house shortly after but the couple reconciled days later. They welcomed their daughter Melody Love in May.
Please fill in your e-mail so we can share with you our top stories!