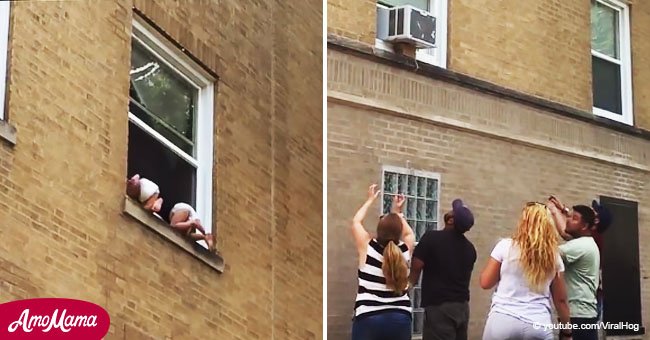 Two babies dangle out of window while passers-by get ready to catch them in terrifying video
The moment, recorded by a woman who later shared it on social media, shows how good Samaritans stood under the window to try to keep children from falling two stories down.
When Denise Ochoa and her cousin Jennifer Salgado saw infants in diapers hanging more than 20 feet high in the air, they rushed to help, according to ABC7. Ochoa uploaded footage from the incident on her Facebook account.
The events took on July 10 around 5:30 p.m. in the neighborhood of Hermosa, in the city of Chicago, Illinois, as CBS Chicago reported. Read more on our Twitter account @amomama_usa
The two women of Latin-American origin called the local authorities as soon as they ran into the terrifying scene, and they were joined by other passersby who were ready to catch the children if they fell down.
Fortunately, Patel arrived just in time to prevent the two 2-year-olds from getting harmed. The children were not injured, but as Inside Edition reported, the Chicago Police Department is investigating the incident.
'I just did what I had to do as a human. I'm not going to stop helping people,' Patel said.
Apparently, an adult was present in the apartment at the time of the incident, but that person didn't notice what was going on.
'Please, people, take care of your children and make sure the windows are locked. Things can go wrong so quickly, and one doesn't always have the time to find out timely. Keep an eye on your babies,' wrote Ochoa in her post.
'I hope this video reaches the family of these two toddlers so they can see what happened when they were not around,' she added.
Please fill in your e-mail so we can share with you our top stories!