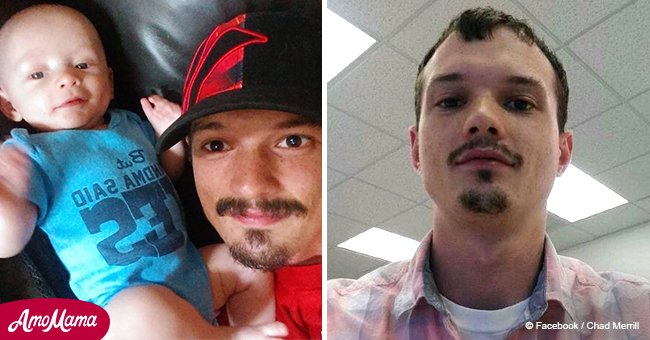 Father of five-month-old boy was shot and killed after standing up for black friend
25-year-old Chad Merrill was shot dead in a restaurant after he stood up for a friend, Jerrell Douglas, who was called the N-word.
York Daily Record reported that the James Saylor had an altercation with the two at the Red Rose Restaurant and Lounge in Hallam Township, York, Pennsylvania, on July 21, 2018.
Merrill and his friend were sitting inside the restaurant when Saylor began directing racial slurs at Douglas, a black man.
Follow us on Twitter for more stories like this. Visit AmoMama USA.
The 24-year-old was the asked to leave the bar due to his rude behavior, including using the N-word. Merrill, however, had urged his friend not to respond to the abuse.
Police said that he even went out to talk to Saylor, who was in his pickup truck in the parking lot. When he approached him, Saylor shot him in the chest and fled the scene.
The shooting took place at around 1 a.m. and Merrill was declared dead at York Hospital at 1:50 a.m.
Surveillance video showed the man trying to get into a vehicle before pulling a gun from his waistband and shooting a bullet in the direction of the lounge, according to Hallam Township Police Chief J. Douglas Pollock.
When Merrill came out, he found Saylor sitting in his own vehicle but was struck by a bullet shot from a distance of about two feet.Saylor was later arrested at his parents' home on suspicion of criminal homicide and was being held at the York County jail.
"He didn't want people hating each other," said Merrill's brother, Richard. Speaking to The Washington Post, he said that though the world may want to keep everything segregated, Merrill would have wanted to see everyone get along.
Pollock said it was an unusual incident in the township. "Maybe he was trying to right the wrong. This is unusual. In the 16 or 17 years I've been here, there hasn't been a homicide. It doesn't happen here."
People who live in the neighbor and the restaurant regulars were shocked by the incident and called it "downright stunning."
Samantha Geoff, a resident of Winterstown in southern York County, had her first date at the restaurant. She said that the owners of the place, Nick and Joe Spagnolo, are good people and never "allow stuff like this" at their bar.
The YDR said that the Spagnolo brothers did not comment on the tragic incident. The restaurant remained open that night.
Friends and family of the deceased man created a GoFundMe page to help his young son, five-month-old Layton. Tributes and condolence messages have been pouring in for Merrill who stood up for his friend.
Please fill in your e-mail so we can share with you our top stories!