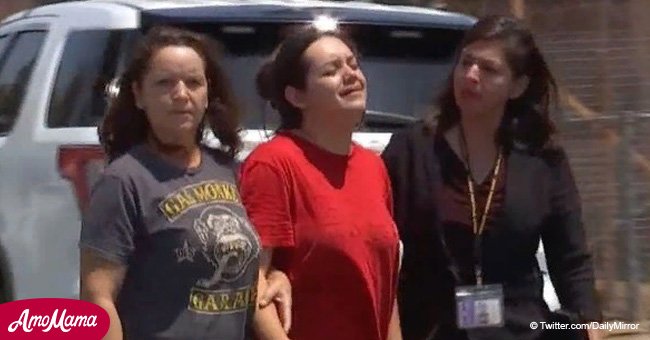 2-year-old girl accidentally shot and killed by 4-year-old cousin

A 2-year-old girl died from a gunshot wound after her 4-year-old cousin accidentally fired the weapon.
According to a statement released by the Headquarters from the San Bernardino Police Department, a 4-year-old boy accidentally shot and killed his 2-year-old cousin on Friday, July 20 in the town of Muscoy, California.
San Bernardino County sheriff's deputies responded to the shooting, which occurred in the unincorporated town of Muscoy a little after 9 a.m. When they arrived at the 2700 block of Duffy Street, they found a little girl with a gunshot wound.
Neighbor Bubba McBath told KTLA-TV he heard the family's screams to call 911, and later saw the girl taken into an ambulance, apparently shot in the chest.
A 4-year-old boy, the victim's cousin, was found with the handgun, investigators said. The boy was crying as deputies took him away in a sheriff's vehicle, neighbors said.
They said the 2-year-old girl was transported to a nearby hospital where she was pronounced dead nearly an hour later. Read more on our Twitter account @amomama_usa
After several interviews, investigators determined Cesar Lopez, the victim's grandfather, left the gun in a place that was accessible to kids. He was arrested for child endangerment and felon in possession of a firearm.
Adults were inside the home at the time of the shooting and were cooperating with the sheriff's department for the investigation.
According to neighbors, the child's mother was devastated as emergency crews tried their best to save the little girl.
The boy's mother, who was in the home in the time of the tragedy, was also questioned in the shooting, clearly overwhelmed by emotion as she sobbed outside her home.
The mother of the victim, supported by another woman, was taken to the police station with another family member for questioning. "That was her only daughter. She was a good mom," neighbor Citlaoy Plascencia said.
Neighbors also said it was a horrible reminder about gun safety. "Have a gun safe, if not a strong-armed box, with a lock on it so this type of situation won't ever happen again," neighbor Tywana Macbeth said, as CBS News reported.
Please fill in your e-mail so we can share with you our top stories!