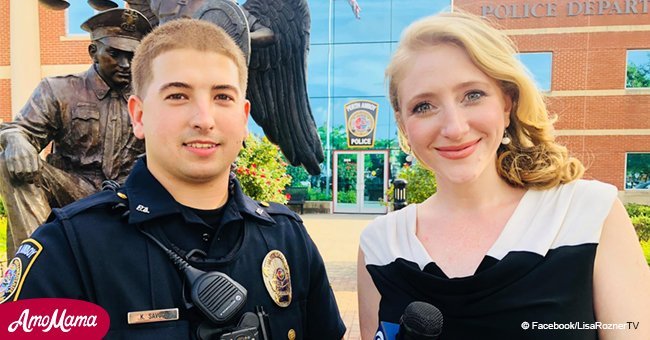 Intense moment officer saves man from an approaching train caught on camera

Officer Kyle L. Savoia, from the Perth Amboy Police Department, saved a man's life after spotting him lying down on the train tracks as the train was approaching.
The 22-year-old rookie has been on the force for only seven months, having sworn on January 8, 2018, but he already made a powerful impact in someone's life.
According to NBC New York, Officer Savoia noticed something red on the northbound tracks about 200 yards away from the station, which prompted him to jump into action.
Savoia started running towards the man, whose identity is yet to be revealed, screaming at him and warning him that the train was coming towards him.
Please consider following us on our Twitter account @amomama_usa to learn more.
At first, the man wasn't moving, but Savoia never quit. While running at full speed, the officer kept waving his arms to warn the train about the man on the tracks.
Eventually, the man heard Savoia's screams and woke up, jumping out of the way in the nick of time as the train was slowing down. The whole footage was captured by the 22-year-old's body camera and served as evidence regarding Savoia's heroic actions.
Later in the video, the man can be seen kneeling on the floor and thanking the officer for saving his life, but, according to Savoia, he didn't reveal the reason why he was sleeping on the train tracks.
The only thing that the man said was that he 'had a rough patch of a few days' and, after that, he was taken to the nearest hospital to be checked. As for officer Savoia, he doesn't see himself as a hero, claiming that it was all part of the job.
During an interview with NBC New York, Savoia, whose father and grandfather were also in the force, said that he didn't know if he would make in time but that, as a police officer, he had to try because lives can be lost or saved in the time it takes to make a decision.
Please fill in your e-mail so we can share with you our top stories!