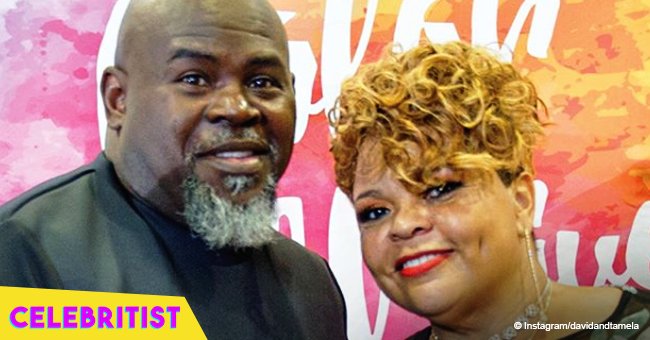 David and Tamela Mann's daughter Tia flaunts slimmer body in military jumpsuit
The 28-year-old is the youngest of of the gospel singers and actors' daughters, and has grown into a beautiful young woman over the years, and recently started to lose weight.
Tia Mann is the daughter of David and Tamela Mann, and as such is no stranger to the cameras and the spotlight. Her parents have shared plenty of photos of her, and she also has her own social media accounts where she documents her life.
Tia has gone on a weight loss journey in the last year, and a recent photo she shared to her Instagram account highlights not only this, but also the beautiful curves she boasts on her body.
In the beautiful image, she pulls a cheeky face at the camera as she poses for the photos.
Tia wore a camo jumpsuit with three-quarters length pants and sleeves that had "Junkie" written across her middle, and an American flag above her heart. She completed the look with a black tank top peeping out from the unzipped top, and a pair of white sneakers.
She wore her thick dark hair piled on top of her head, and wore a delicate gold chain around her neck.
Another recent photo she shared while getting ready for a weding showed her in a beautiful black dress with a v-neck and a high slit up her thigh.
The dress hugged her around her middle with a diamante embellishment, showing off her much slimmer waistline.
Tia underwent weight loss surgery in 2017, and although she didn't feel she was particularly unhealthy before the procedure, she said at the time that she was looking forward to being "healthier, slimmer, and won't have to worry about the knees."
Tia celebrated her 28th birthday in May, and enjoyed a special dinner with her parents for the special occasion.
David and Tamela took to their joint Instagram account to share a photo, and a message for their youngest daughter.
"Happy 28th birthday to our silly baby girl @iamtiamann," the gospel singers and actors captioned the post.
In the image, David and Tamela appear alongside Tia on an elegant night out. The three of them all decided to stick with the monchrome theme, with both Tia and Tamela wearing black dresses while David wore a black suit with a white shirt.
In a promotional video for TV One's The Manns, Tia was introduced to the public prior to the release of the show in April 2017, and she is presented as the family's "spoiled baby" with a flamboyant personality.
David and Tamela are among the few Hollywood couples who have had a lasting marriage, and are celebrating their 30th wedding anniversary in 2018.
The couple has also worked together professionally on Tyler Perry's plays and a number of television shows before their reality show started.
They have raised five children together, including David's daughters from a previous relationship, LaPorcia and Tiffany, and Tamela's niece Sonja, who was raised in their house as one of their own.
Please fill in your e-mail so we can share with you our top stories!