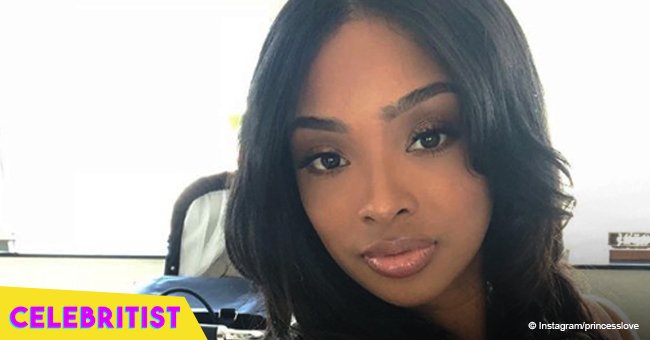 Princess Love shares pic of smiling daughter in Burberry bib amid debate over her feud with Brandy
"Love & Hip Hop: Hollywood" is back and is finally giving us some answers about the alleged feud between Princess Love and her husband's sister, Brandy. Meanwhile, the reality star has been sharing pics of her adorable baby daughter non-stop.
Princess Love and Ray J's love story has been filled with ups and downs until they finally tied the knot in 2016. However, it seems like there were some trust issues affecting the couple before the birth of their first daughter, Melody, last May.
After the baby's birth, Princess has been busy taking cute pictures and videos of her adorable tot and melting her fans' hearts with her Instagram posts.
One of the recent pics she shared shows baby Melody rocking a white onesie with a checkered Burberry bib as she lays on top on pink blankets smiling softly to the camera. "My everything," she wrote in her caption.
Baby Melody has changed Princess and Ray J's lives for the best, and even their relationship with the Norwood family has been improved after the birth of the baby girl.
Earlier this year, Princess caused some controversy among the family when she publicly accused her husband of cheating while he was on a business trip to Las Vegas. Ray J's mother, Sonja Norwood, and his sister, Brandy, were not happy about the "character assassination" that was taking place on social media because of Princess' comments.
This caused a rift between the family just before Princess' baby shower, and while Brandy later revealed she couldn't attend because she had a show the same day, Sonja didn't make an appearance because she was still expecting an apology from her daughter in law.
Ray J addressed the family feud in an interview with People, explaining that like other families, is normal to have disagreements. "You have good days and you have bad days. Is just unfortunate that sometimes people kind of take certain things they see, and they go out and let the public know but for us, we'll be fine," he said.
With the new season of "L&HHH" fans are now finally getting answers about what really went down between Princess and the Norwoods, taking into account that what we're seeing took place months ago and now it seems like everything is fine again within the family.
Brandy has been showing some love for her baby niece, her brother, and Princess Love, whom she has called "little sister" in several occasions, but fans believe there's still some unsaid words between the women.
We'll have to wait and see how this situation develops on the reality show.
Please fill in your e-mail so we can share with you our top stories!