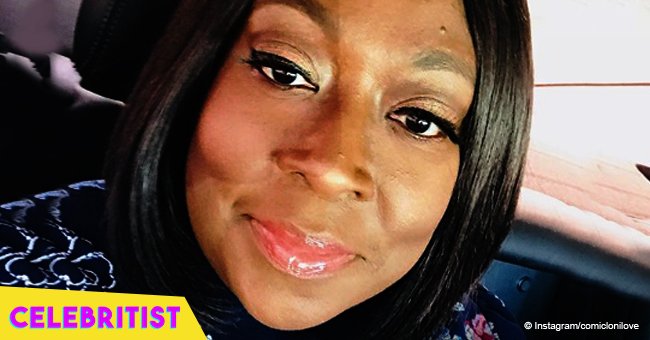 Loni Love shows off her weight-loss so far by sharing photo of her thinner face
The American comedian, actress, and author has been working hard to shed the pounds in recent months, and highlighted her progress in a photo on social media.
47-year-old Loni Love has embarked on a weight loss journey in the past few months in an effort to improve her health and lifestyle, and so far has already lost over 30 pounds, making a very visible change to her former figure.
She recently shared a photo of herself to her Instagram account, and even though the photo is just of her face, it's clear in the image that she's slimmed down drastically.
In the caption of the comparative photos, she wrote: "#lonilosschallenge take pics of yourself to show your progress... #fatface."
While she has her hair done up in similar fashion in braids in both images, there's no doubt the images were taken at different times. In the first image, her face is noticeably wider than her much slimmer face in the second.
And while her makeup is down up for a glamorous night out with smoky eyes and red lipstick, she still looks much better in the second image with minimal makeup and a healthier glow.
Love also shared another image of herself at the 2017 installment of the Emmy's, and one of herself at the 2018 Emmy's that showed the marked difference.
In the first image, Love is wearing a floor length pink sequined dress with a scoop neckline and three-quarter sleeves. In the second, she is wearing a slimmer dress with gold sequins and short sleeves.
Although she is smiling in the first image, she seems to have an extra sparkle in her eyes in the second shot, as though she's particularly proud of her achievement.
Her caption only seems to confirm this: "#tbt 2017 Emmy and 2018 Emmy... 30 lbs difference .. I will continue to take my time and focus on my health .. .. here is to 2019 and working on losing another 30!!!! #loveyourself."
Love made a name for herself when she placed second in the 2002 installment of Star Search. Later, she was named one of the Top 10 Comics to Watch by Variety and Comedy Central.
After that, she landed what has been the most important gig in her life: co-hosting The Real next to Jeannie Mai, Tamera Mowry, and Adrienne Bailon.
Please fill in your e-mail so we can share with you our top stories!