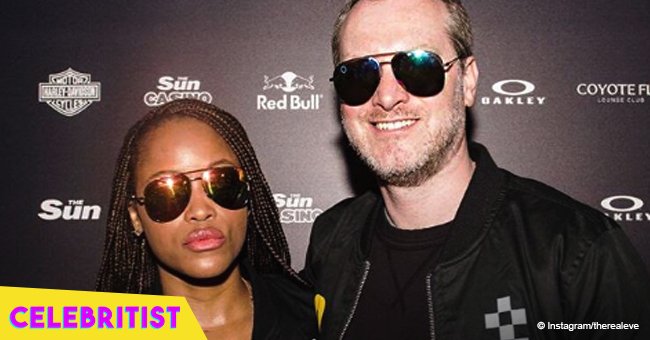 Eve shows off chest tattoos in plunging black outfit in recent picture with husband
Eve and her husband, Maximillion Cooper, recently celebrated their fourth wedding anniversary, and after celebrating with a romantic getaway, the pair is ready to have some adrenaline at the upcoming Gumball 3000 rally.
They met at the Gumball 3000 event in 2010 and tied the knot four years later at the end of the same event in Ibiza, and since then, Eve has become a constant support to Cooper, the creator of the rally, as they drive long distances with fellow artists on expensive cars.
This year, the rally will take the drivers from London through Italy, where the cars with be airlifted in four 747 cargo planes to Osaka, so they can continue to the final destination which is Tokyo.
Through the years, the event has counted with the presence of big names of the industry such as Madonna, Jodie Kidd, Hugh Hefner, Quentin Tarantino and Snoop Dog.
One of the constant participants of the race is actor David Hasselhoff, who appears with Eve and Max in a photo the English millionaire recently shared to his Instagram account as part of the countdown to the race.
In the pic, the couple is posing next to Hasselhoff and rapper Bun B. Eve, as the only woman in the pic, naturally steals the spotlight with a plunging back dress that put her cleavage and paw tattoos on display as she completed the look with a fur jacket and a metallic choker on her neck.
"Gumball family reunion in London coming soon.... great to have the Hoff and Bun B back this year!" Maximillion wrote in his caption.
Talking about her life as a married woman, Eve told Cocoa Fab a few years ago that it took her some time to adjust to the fact that she has a partner in crime and is not necessary to get stressed alone over every single thing.
"Being married has changed me in a lot of different ways. It's funny because I'm a really fiercely independent person and I always have been. Being married, you have to relinquish some of that," she said.
"Not in a bad way but in the way that you need to sit back and trust your partner to be able [to] help you with things. Sometimes my husband has to say to me, 'Chill. You're my wife now. I can take the ball from here. Don't even stress.'"
Eve and Maximillion will be traveling to London for the August 4 inauguration of the 20th-anniversary edition of the Gumball 3000.
Please fill in your e-mail so we can share with you our top stories!