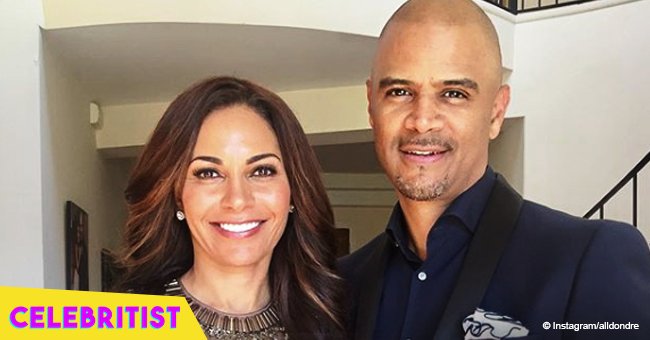 Dondré Whitfield shows off his resemblance to grown daughter and son in sweet pic

Dondre Whitfield proudly poses with his two children after being appointed ambassador of an aviation company.
Dondre Whitfield is a proud father of two children who recently joined him at an event he was honored to attend.
Dondre' posed with his two children, daughter Parker Richardson and son Dondre Terrell, in a photo he shared lauding Delta Airlines "for creating the next class of black and brown aviators." The 49-year-old father revealed he was chosen to be an ambassador for the airline's 2018 Dream Flight and felt honored to be a part of the experience.
"@delta is doing so much in the way of creating the next class of black and brown aviators. Along with OBAP (Organization of Black Aerospace Professionals) they are doing the work necessary to make aviation more diverse and inclusive. I was selected as an ambassador and of course brought my babies. This truly is a dream experience. #2018DreamFlight"
Dondre's two children with his wife of 16 years, Salli Richardsons, shared an uncanny resemblance to their father as they stood alongside him in the photo. The 'All My Chidren' star matched his beautiful daughter who wore shades of blue and white like him while his good-looking son looked dapper in a collared white shirt and a white jacket.
It's no secret Dondre maintains a close relationship with his children. In fact, he enjoys spending time with them and finds time to be with them despite his busy schedule.
Photos from his Instagram account reveal his devotion as a father. A few years back, he made an effort to kneel down in a boxing ring just to match his son's height while teaching him to box.
He also revealed his daughter was a daddy's girl when he joined her in the premiere od Disney's 'Zootopia.'
A more recent post also revealed the former 'The Cosby Show' star celebrating his birthday watching the play 'Hamilton' with his wife and their two children. He revealed it was the kids' first Broadway show and was happy to be joining them for their first time experience.
Dondre and Salli married in 2002 after a five-year courtship. Both actors, they've managed to lead a blissful life, proof that there is marital stability in Hollywood. Here's proof of that.
Please fill in your e-mail so we can share with you our top stories!