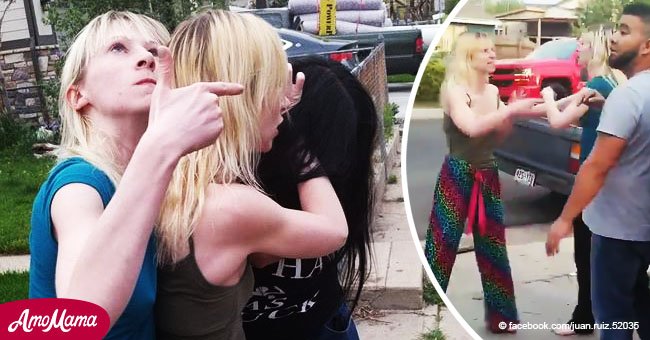 Family was insulted and attacked by twin sisters in colorado just for being hispanic

Two sisters have been arrested in Denver, Colorado under charges of assault and racial crimes for insulting a Latino family in an incident that was caught on video.
26-year-old twin sisters Natasha and Shala Fross can be seen on a cellphone footage involved in a fight with a woman and her daughter, both of Mexican origin, with the Hispanic woman's son staying behind the camera, as Fox31 reported.
'My mother was at the neighbors' house asking how much it would cost to install carpet on the floor of her house when these two girls started shouting racist things from the other side of the street!' Carlos Ruiz wrote on Facebook on July 10.
In the clip, one of the sisters can be heard shouting: 'Look at yourself compared to me! Who are you? Who are you compared to us.' 'Old fat Mexican [expletive],' one of the siblings also said. Read more on our Twitter account @amomama_usa
When the police arrived at the scene, the sisters claimed to have been attacked as they continued to shout at the Hispanic family. 'This does not look good to you, go and wait for your house,' the police officer told them.
'How the hell do Mexicans have money to have the same houses and cars as us?' the women shouted at their mother, as Ruiz tells in his post. As he wrote, his mother started walking back to her home, but the attackers followed her.
The Fross sisters approached Ruiz's mother and reportedly beat her and pulled her hair. The man explained that he was about to intervene in defense of his mother, but his sister warned him against it, fearing he was going to get in trouble.
Ruiz had no alternative but to stay out of the physical confrontation, and instead, he captured the entire shameful incident on his mobile phone to keep as evidence for the police.
The two sisters have since been arrested on charges of assault and bias-motivated crime charges.
'People think racism is a joke…it's 2018 and this is the stuff our president promotes!!,' Ruiz denounced on his post, which has been shared 16.000 times.
Please fill in your e-mail so we can share with you our top stories!