Kenya Moore breaks silence on why she's not returning to 'RHOA'
Kenya Moore clarified the rumors going around about "The Real Housewives of Atlanta" with a tell-all Instagram post. 
The reality TV star shot down rumors saying she was offered a "friend of the show" role. One particular "RHOA" fan account posted: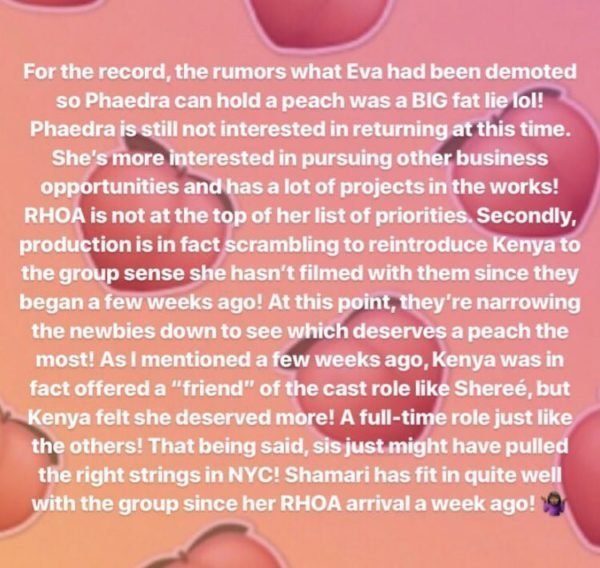 Moore decided to reply to the post on Twitter, squashing all these rumors of being offered a friend of the show role, which was infamous for housewives whom the producers were not pleased with. According to
Madamenoire
, it wasn't that she was offered the role that she is not returning, but because they didn't want to increase her pay despite her storyline being interesting.
Due to her choice of keeping her wedding a secret, she has had some trouble with the executives who had wanted to show it exclusively. However, things are bound to get interesting as she is a pregnant woman at 47-years-old. Not only is that intriguing, but it is also highly dangerous. Now that she is a married and pregnant woman caught in such a casting situation, she admits that it is painful, especially now that she and her husband have decided to stop being so private.
Nope... was never offered a friend role, just friend 💲to do the same job and show family and baby story. 🤔 No movement in negotiations but not to worry... a girl has options just in case 💅🏾 👸🏾 https://t.co/dGFP1zo5iV

— KENYA MOORE (@KenyaMoore) July 24, 2018
The former Real Housewife threw some shade at the entire show and her former co-stars, saying that maybe she should have just done a crime to be kept in the show especially because of her tenure. However, she hasn't done that like her fellow housewives Porsha Williams and NeNe Leakes, who have had run-ins with the law. 
I feel you, as a fan I wholeheartedly agree this would be the pinnacle of my tenure on the show. The fans deserve to see my happy ending... unfortunately, it's not up to me. Maybe I should have committed some crimes 😏 https://t.co/U6LK6YxxuV

— KENYA MOORE (@KenyaMoore) July 24, 2018
Kenya adds that she feels fans deserve to see her happy ending - one with no drama and no fuss, just a happy marriage, happy pregnancy, and later on a happy journey of parenthood.
It is not just Kenya who is disappointed with what "RHOA has to offer", and it seems that Sheree Whitfield has also confirmed that she will not be returning to the show due to their "lowball" offer. 
To be honest yeah it does. A dream would be to have everything aligned for once in my life... falling in love, getting married, having a baby, businesses thriving and work life... all at 47 🤷🏾‍♀️ God will have my back https://t.co/6U2GO8HqyY

— KENYA MOORE (@KenyaMoore) July 24, 2018
While Whitfield is currently living her best life, Kenya is hurt by what the show has done to her, especially pouring out her life into it for the past seasons. However, she assured her fans that she has her options, and she is not letting this setback affect her so much.