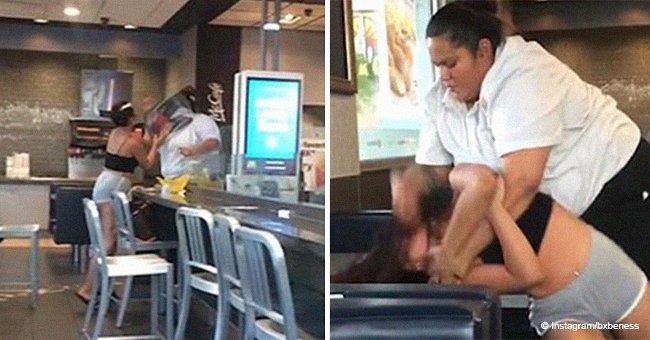 McDonald's worker seen slamming customer who threw milkshake at her in brutal footage

What started as a normal day for a McDonald's employee ended up being a very stressful memory as a fight broke off after a customer tried to fill a water cup with soda, which led to a beatdown.
It isn't known when or even where the event took place, but the video has become viral in the few hours that it has been online, not only because of the violence in it but also due to the triviality of the issue.
The video has been uploaded to Instagram, where it is being shared among its users, and shows the entire fight, from the moment the client threw a milkshake at the employee to the moment where the client was punched and slammed against a table.
The images can be quite graphical, so those who might be interested in watching the clip must be prepared as it involves violence, foul language and a little bit of nudity.
Please consider following us on our Twitter account @amomama_usa to learn more.
At the beginning of the video, client and employee, whose identities are yet to be revealed, can already be seen arguing and the customer throws the milkshake at the woman behind the counter.
The McDonald's worker immediately reacts by going after the client and grabbing her. She easily overpowered the petite girl, who struggled to protect her face from the fists that were landing hard on her.
The worker then picks her up and slams her against a table. At this point, other employees, a manager and a client appear out of nowhere to help break them up.
During the violent altercation, the customer's top slips and one her breasts is left exposed, but she quickly tucked it in as one of the food chain's employees tries to get her away from her colleague.
Instead of calming down, the customer starts fighting her, which caused the worker to defend herself, leading the others to join her in the assault. Eventually, the fight came to an end but the client still hadn't had enough.
As the employee who got a milkshake thrown at her was walking away, warning the customer not to insult her mother ever again, the woman can be seen grabbing a chair and walking towards her
Her hopes were easily destroyed as the much bigger worker snatched the chair from her hand, using it to keep the distance between the two before going back behind the counter.
The footage ends before we can find out what happened afterward, but this whole incident started because the customer didn't feel like paying for a drink and used the water cup to get some soda, which violates the restaurant's rules.
Please fill in your e-mail so we can share with you our top stories!