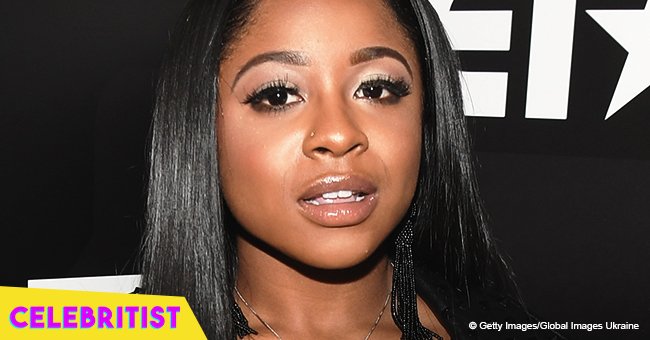 Reginae Carter sparks heated debate after debuting her new, bright pink hair

Reginae Carter's new hairstyle is causing quite a stir on her Instagram as fans express conflicting opinions about it. The daughter of Lil Wayne who also drew flak recently for dating older rapper YFN Lucci posted a photo of her new look that's become a subject of debate.
Reginae Carter is sporting pink hair and totally feeling her new look, but fans are conflicted about it. The daughter of Toya Wright recently debuted her hot pink bob in a photo she posted on her Instagram. She was leaning against a Mercedes Benz dressed in a white cropped top with a matching bottom as she held on to a pink bag that complemented her pink do.
Reginae tied the front part of her hair to reveal her youthful looking face as she smiled holding on to a few whisps to keep them away from her face.
The petite television personality who looked dolled up for the summer in her recent post sparked debate over her new hairstyle. While some thought she rocked the look, others expressed their dislike.
"Nae I think your hair is BOMB! U can rock anything! F*** the haters"
"Yaaass get it Nae. Love the pink"
"All this money and you can't find a better hair stylist?"
"I'm confused on why everyone hates your hair but if we really wasted time doing that we would go crazy ITS CUTE"
"You my girl and all but the hair gotta go like neoowwww!! Who ever did your install gotta you out here lookn hella goofy. The front just omg I can't your stylist needs her ass beat!!
"@colormenae I never comment on celebrities pics but this definitely deserves it u look so pretty from the hair down to the sneaks, and that sweatsuit is [100 emoji]"
This new wave of debates shouldn't be bothering Reginae anymore as she's used to criticism. She also drew flak for dating rapper YFN Lucci who's much older than her. Her haters were even more convinced the rapper wasn't good for her when he was caught on camera dancing with strippers and throwing money at them. After the incident, the rapper deleted his photos with his younger girlfriend who kept her pics with him. This caused brought on another wave of backlash for Reginae.
As of last month, Reginae and YFN Lucci were spotted together at the BET Awards which means they're still together despite the negative vibes they've been receiving.
Please fill in your e-mail so we can share with you our top stories!