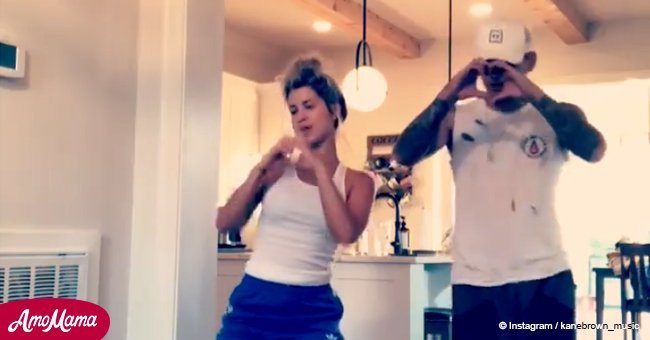 Kane Brown shows off sexy dance moves with his fiancee in a hilarious video
Country singer and songwriter Kane Brown surprised everyone on the internet with his spectacular dance moves.
Brown took to Instagram to share the video, in which he is seen dancing to the beats of Drake's mega-hit In My Feelings along with his fiancee, Katelyn Jae.
The country artist performed on the number in response to the 'In My Feelings challenge; that has currently taken the social media by the storm.
His video clip amassed over 1.6 million views in less than 24 hours and the number is increasing by the hour.
Follow us on Twitter to learn more.
The rendition from the Heaven singer and his fiancee is well on its way to becoming the most famous version of the song ever.
Other versions of the dance on the same song have involved people recording themselves jumping from moving cars with law enforcement agencies already warning people against doing such "super dangerous" activities, according to CBS News.
However, Brown's version did not involve any such risky props. It still delivered some unbelievable footwork and dance movement from the country star.
"Let's do it," Brown is heard inviting his fiancee for the dance at the beginning of the video. The couple then presents some well-synchronized and well-choreographed dance moves that impressed their followers as well as the all of the internet.
Brown captioned the video as, 'Kb do you love me,' and added the hashtag: #nodancecouple
So far the video has gathered over 200,000 likes and more than 11,000 people are talking about it actively in the comments section.
According to One Country, Brown deleted his Instagram account only a few months prior to uploading the sensational video. At the time, he stated that he needed people to miss him for a "certain thing coming up."
Please fill in your e-mail so we can share with you our top stories!