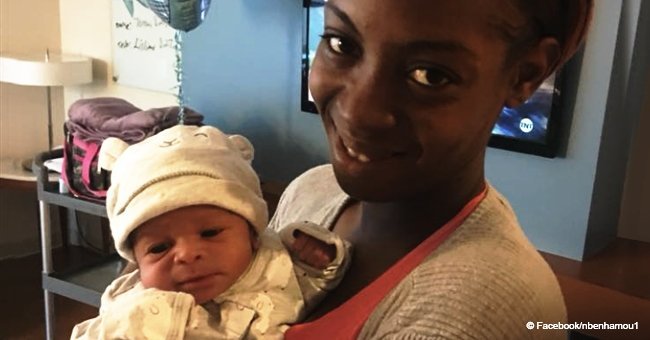 Mother dies days after giving birth as paramedics allegedly assumed she couldn't afford ambulance

A woman died after suffering a stroke just two weeks after giving birth to her third child. Her grieving mother claims paramedics assumed she couldn't afford an ambulance ride and made her lose precious time that could have spared her daughter's life.
Nicole Benhamou, 53 is devastated after the death of her daughter Crystle Galloway, just two weeks after bringing her third child, a boy named Jacob, into the world. She's also survived by her 7 and 13-years-old daughters.
On the early hours of July 4, Benhamou received a call from one of her granddaughters telling her there was something wrong with Galloway. After rushing to her daughter's home, Nicole found her slumped over the bathtub, unconscious and drooling from the mouth.
However, Crystle soon regained conscience and said her head was hurting. Nicole decided to call 911 to ask for help. Around 3 AM two deputies from the Hillsborough County Sheriff's Office arrived at the scene, followed by four paramedics from Fire Rescue.
There are two versions of what happened next at Galloway's Temple Terrace apartment, as reported by the Tampa Bay Times
According to Benhamou, one of the deputies suggested her daughter was just having a hangover and she should "sleep it off." She also revealed that the first respondents were more worried about Galloway being able to afford the three-block ambulance ride to the nearest hospital than her condition.
"My daughter begged for her life," she said. "The only thing they were worried about was my daughter had a new baby and she couldn't afford an ambulance."
The Hillsborough County Fire Rescue officials then carried Galloway down three flight of stairs and put her on her mother's car, telling Benhamou that it was the best option since the ambulance ride would cost them around $600. The woman was so desperate by losing time that she decided to transport her daughter by herself.
After arriving at Brandon Regional Hospital, a CT scan showed bleeding on Galloway's brain, and she was airlifted via helicopter to Tampa General Hospital, where she eventually slipped into a coma. Five days later, on July 9, she passed away. She would have been celebrating her 31st birthday on July 12.
The paramedics are disputing Benhamou's version of events, claiming that the mother volunteered to take her daughter to the hospital and only asked for their help carrying her down the stairs and to her car.
An investigation following the incident placed the four Hillsborough County Fire Rescue paramedics on paid leave after it was discovered they failed to apply several protocols that should have been followed at the scene.
They didn't check Galloway's vital signs even though the 911 call had been coded as a possible stroke case, they also failed to make Crystle or Nicole sign a consent form confirming she was declining medical transport and submitted the call as "Non-transport/no patient found" which was described by county officials as falsification of records.
The four suspended paramedics were identified as Lt. John 'Mike' Morris, 36; Fire Medic Justin Sweeney, 36; Fire Medic Andrew Martin, 28, and acting Lt. Cortney Barton, 38. They are scheduled to appear at a disciplinary hearing on July 31.
"She's 30 years old and just graduated from college, she had her whole life ahead of her," Benhamou told ABC Actions News of her daughter. "You can tell me you're sorry, you can give me your condolences but you still have to work this out with God."
Please fill in your e-mail so we can share with you our top stories!