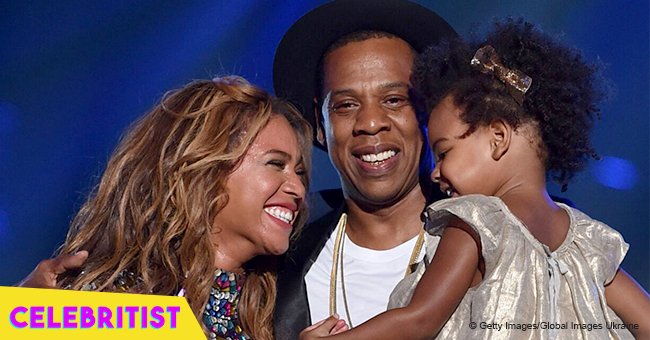 Beyoncé dazzles in flowing red maxi dress with Jay Z & Blue Ivy in France amid pregnancy rumors
The musical couple have been away from home on tour, and took their children with them to enjoy the incredible sights on the way.
Beyoncé and Jay-Z have been traveling Europe thanks to their On The Run II tour. During breaks, they have been spotted enjoying some much deserved down time in different places.
One of their most recent outings took place in Cannes in the South of France, when the couple, their eldest child Blue Ivy, and Beyoncé's mother Tina Knowles got together to have lunch as a family, reported The Sun.
The Shade Room got hold of a photo of their outing and shared it to their Instagram page.
"#JayZ, #Beyonce & #BlueIvytaking a lil family stroll in #CannesFrance: Backgrid," they captioned the image.
Jay-Z was wearing a simple yet stylish ensemble as he put on a pair of white pants and a white shirt, as well as a red bandana and black sunglasses. Blue Ivy opted for denim shorts and a green and yellow swimsuit top.
Beyoncé opted for a loose red, Dolce & Gabbana maxi dress that had a zebra and tropical fruit pattern all over it. It featured long, flowing sleeves, and a v-neck that had her bust half bursting out of the top of the garment.
The Lemonade singer also wore a pair of sunglasses with an orange tint, and left her blonde curly hair hanging loose. She carried a straw handbag.
Another image of their outing also showed Beyonce's mother, Tina. The matriarch opted for a chose a long loose dress with green black and brown patterns on it, and dark sunglasses.
Beyonce's dress seemed to draw plenty of attention to it, as the flow of the dress started at her waist, above her stomach. Her outfit added more fuel to the pregnancy rumors that started after her concert in Rome, Italy, that was held on July 8.
The couple has surprised their fans in many ways during the tour stops, as they have shared photos from every adventure, including their vow renewal ceremony, and even revealed they are set to release a joint album titled Everything Is Love.
Because of the sharing the couple have been doing during their On The Run Tour II, many believe that if there is a bun in the oven, the couple might feel it is the perfect time for them to share the news in a way many feel she already has.
At the end of one of her songs during the concert in Rome, the pop star placed her hand on her belly and started rubbing it in the same way most pregnant women do. Several people took to Twitter to share their thoughts.
One of them was user Jarot Iscariot, who said that Sir and Rumi, the twin children that Jay-Z and Beyoncé welcomed to the world on June 13, 2017, were too young for their parents to be considering having more babies just yet.
At this point, no one in the family has confirmed the news, leaving the pregnancy rumors as just that: unconfirmed rumors.
Beyonce's European tour is now over, and the family has certainly made the most of every moment, with the couple making sure they showed their young children as many sights as possible in between concerts and rehearsals.
Beyonce is now busy with the American leg of her tour, which kicked off in Cleveland, Ohio, during the week.
Please fill in your e-mail so we can share with you our top stories!