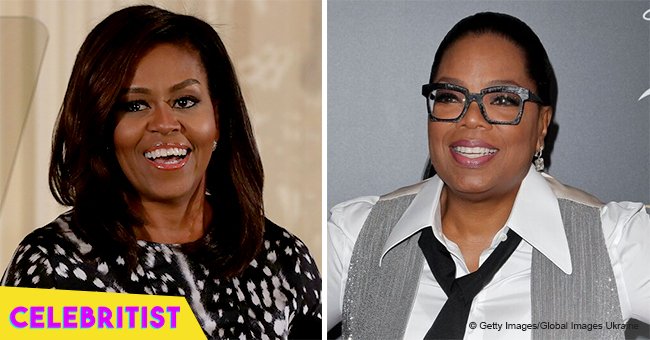 Michelle Obama flashes toned arms in sleeveless frock, embracing Oprah in 'powerful' throwback pic
In 2016, former first lady, Michelle Obama, and Oprah Winfrey took the stage of the United States of Women Summit to have a very powerful conversation that, to this day, people are still remembering. Winfrey recently shared a throwback pic from that event, stirring fans' hearts with it.
If there are two African American women that people in the U.S admire, love and respect they are definitely Michelle Obama and Oprah Winfrey.
While their title jobs couldn't be more different, both are the example of what black women aspire to be: smart, poised, graceful, talented and compassionate.
While Oprah has been in the entertainment industry for over four decades, Obama earned the people's love while her husband led the nation in the past nine years.
The ladies reunited for an iconic conversation at the 2016 United States of Women Summit, and Oprah recently shared a throwback pic on her magazine's Instagram from that day that made fans fall head over heels once again for the pair.
In the pic, Michelle is embracing Oprah as she holds a microphone. Obama looked stunning wearing a sleeveless black dress with colorful details on the bottom, while Winfrey went for a long-sleeved blue dress and black-rimmed glasses.
Fans, who have expressed their desire for one of the two women to run for president in the next election, took to the comment section of the photo to share their love.
Instagram user @sbajenaru wrote: "Much love and respect for the two most amazing, strong and wise women, thank you for leading by example!! While @darkbrownsuga75 said "That hug looks like warm peach cobbler, and an Irish cream coffee," and @jusaintr1te added, "President & Vice President you decide which.... @oprah @michelleobama."
At the 2016 Summit, Michelle talked with Oprah about self-worth, as she gave all the women who were listening to her a very important lesson about it saying:
"Our first job in life as women is to get to know ourselves. And I think a lot of times we don't do that. We spend our time pleasing, satisfying, looking out into the world to define who we are, listening to the messages, the images, the limited definitions that people have of who we are. And that's true of women of color, for sure. There is a limited box that we are put in and if we live by that limited definition, we miss out on a lot of who we are."
And speaking of knowing who you are, Obama broke the people's hearts when she confirmed that she's not interested in running for president in the future. She explained that her husband is the one passionate about politics, and chastised people for wanting her or Oprah to run for president just because they are smart.
"Just because I gave a good speech, I'm smart and intelligent doesn't mean I should be the next president," she said. "That's been our problem. We're very shortsighted about how we think about selecting the commander-in-chief."
Please fill in your e-mail so we can share with you our top stories!