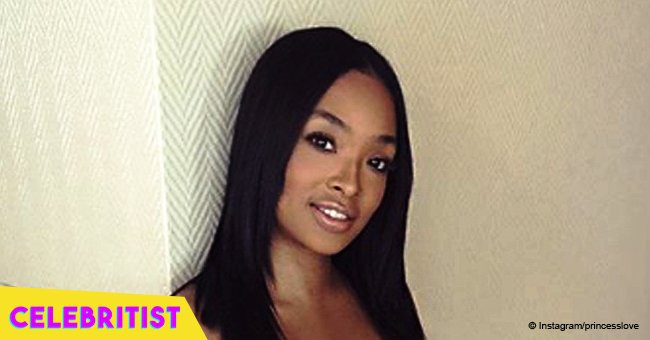 Princess Love shares childhood photo of herself along with snap of baby Melody yawning adorably
The entertainer, fashion designer, entrepreneur, and reality star welcomed her first child a few months ago, a baby girl, with her husband, and is loving sharing her sweet little girl with the world.
Princess Love's baby girl Melody was born in May 2018 to her and her husband, Ray J. Since her birth, Love has posted plenty of photos and videos of the 2-month-old to her Instagram account, always happy to give her fans updates.
A recent picture showed her sweet baby girl in the throes of a big yawn, but with a twist. Love had pasted it side by side with a picture of herself as a baby, yawning in almost the exact same way, that her mother had dug up.
"My mom just sent me this! Me on the left, Melody on the right," she captioned the sweet image, along with a heart emoji.
Love and her daughter were even dressed similarly in the photos, with both wearing a soft baby pink. Both also has a mop of curly black hair.
Within just 20 hours, the post already had almost 200,000 likes, and plenty of comments of followers gushing over just how cute they were.
"Twinning," wrote believe_in_king_g, while Francisca Onuoha asked, "Is it possible to give birth to your self ... cos I'm seeing it .."
Love previously shared an absolutely adorable video of herself and her baby girl, with Ray J poking his head into the frame at one point as well. In the clip, Love had put a bear ears filter on that also gave them a red bow and a pair of glasses each.
While she's filming, Ray leans over the back of the couch to kiss his daughter on the cheek, only for her to sneak a side-eye glance at him.
But when Ray looked up at the camera, the bears ears, bow, and glasses transferred onto him, a picture he didn't seem all that pleased to see.
"Happy Sunday," Love captioned the footage, with a smiley and a heart emoji. The clip has been viewed over 750,000 times.
Love first introduced her daughter to her fans on social media on June 1, when her daughter was a couple of weeks old already.
The image that she shared was one of herself and Ray J holding their baby girl between them as she appeared to snooze, completely uninterested in her introduction to society.
"Introducing Melody Love Norwood," Love wrote.
The couple had a difficult relationship through the years before finally managing to tie the knot in 2016 at a lavish ceremony at the Vibiana in Los Angeles. They had just 150 guests in attendance for the occasion.
Ray J announced that they were expecting their little girl six months into Love's pregnancy, while speaking on The Real.
Please fill in your e-mail so we can share with you our top stories!