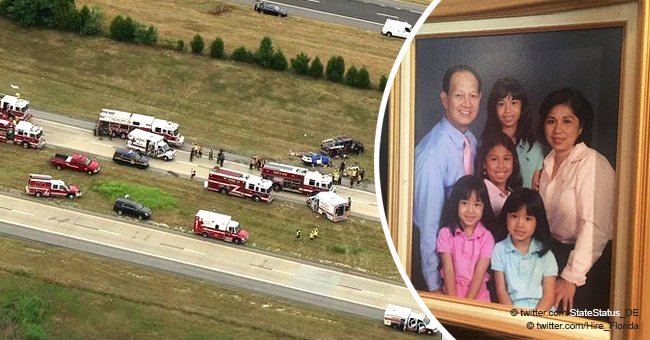 Update on mother from New Jersey who lost her family in a crash

A Filipino woman based in New Jersey was the sole survivor of a Delaware car crash. Recently, reports revealed that she was released from the hospital.
53-year-old Mary Rose Ballocanag of Teaneck lost her husband and four daughters during the tragic accident.
Reports from Inside Edition revealed that she had been treated and have been released at the Christian Hospital.
As suggested by the media outlet, Ballocanag suffered from multiple broken bones.
Follow us on Twitter at AmoMama USA for more updates.
The crash occurred on July 6th on Route 1 in Townsend.
61-year-old Audie Trinidad, who was Ballocanag's husband, and their daughters, Kaitlyn, 20, Danna, 17, and 13-year-old twins Allison and Melissa, all passed away when the family's Toyota Sienna was struck by a pickup truck.
The family was supposedly driving home from their vacation on a state highway in Delaware
After the incident, Ballocanag revealed to a relative that she was "jolted awake" and saw that her husband's head was resting on her chest while the rest of her body was slumped behind the steering wheel.
According to the police, the girls were not wearing seatbelts at the time.
The van was hit by a Ford F-350 pickup truck driven by 44-year-old Alvin S. Hubbard Jr., of East New Market, Maryland.
His vehicle reportedly swerved out of the southbound lanes and crossed the highway's grassy median.
Hubbard, along with his 30-year-old passenger, were treated for their minor injuries. The police suggested that the cause of the crash was unclear.
Hubbard also hit the car of 24-year-old Brian Kern from Bethlehem, Pennsylvania. Kern also survived.
In an interview with WPVI in Philadelphia – ABC7's sister station – Kern said the crash looked like a "war scene."
He said, "Out of the corner of my left eye, I see this F-350 truck wildly swerving in the median through the grass, and I knew it was coming right for us."
Amid the deaths, there have been no filed charges in connection with the accident.
Authorities claimed that cable barriers will be installed on Route 1 starting at Odessa until Smyrna to prevent any more crashes.
Please fill in your e-mail so we can share with you our top stories!