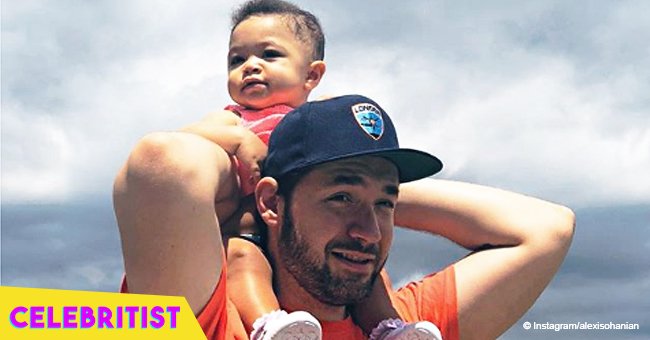 Alexis Ohanian melts hearts with photo of baby Olympia walking on a colorful, Armenian rug

Alexis Ohanian reveals an unlikely gift he got for his daughter Olympia which also happens to have a special heritage close to his heart. The doting father who shares a photo of that gift along with her daughter also recently revealed one important concept about money he hopes to impart to her.
Olympia Ohanian, the famous daughter of Serena Williams and her husband Alexis Ohanian has graced almost every photo her parents have shared on Instagram since her arrival close to 11 months ago. It's safe to assume she's the apple of their eye and the center of their attention in their posts, even when the subject of the photo is supposed to be an Armenian rug.
During a photo Alexis recently posted, he shares the story of a rug he bought for Olympia while posting a photo of it. The doting father that he is, he also included his daughter in the snap who's featured showing off her ability to stand on her own. The cute toddler is dressed in a pink and white striped onesie with the word "loved" scrawled in red on it, a fitting description for the tennis superstar's firstborn.
In his caption Alexis reveals he purchased the rug for his daughter and discovered it also has roots stemming from the Reddit co-founder's grandmother who was Armenian. He writes,
"Armenian. (The rug, which I got for @olympiaohanian on my last trip, is inspired (I'm told) by designs from the same region in Western Armenia my grandmother's family was from). She's not here to pass it down and the genocide didn't leave her family with much anyway, so this is a new-old family heirloom"
Many would think Alexis' gift isn't something a parent would normally give his months-old child but he is a smart businessman who knows a valuable product when he sees one. In fact, he recently opened up to 'CNBC Make It' about the one thing he plans to teach his daughter when it comes to money and how to grow it and that's the concept of compound interest. The smart investor reveals it's the single financial idea he hopes many young people will learn to imbibe including his daughter.
The concept involves investing money for long periods so as to allow your wealth to snowball in time. Alexis also stressed the importance of living debt-free because the interest on debt could also snowball and deplete one's wealth. In short, the longer it takes one to pay off a debt, the more he ends up paying.
With a tennis superstar for a mom to teach her discipline and perseverance and a father with a business sense like Alexis,' Olympia is fully equipped with the an impressive genetic makeup. This girl is undoubtedly destined for greatness.
Please fill in your e-mail so we can share with you our top stories!