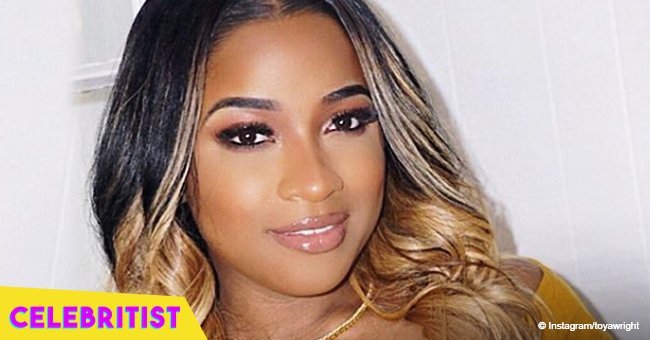 Toya Wright warms hearts with family reunion photo of smiling baby Reign and Robert Rushing
New mom Toya Wright surprises fans with a rare pic of her boyfriend spending precious time with their 5-month-old girl. Many agree the father and daughter look so much alike.
When it comes to her boyfriend Robert Rushing, Toya Wright has been careful not to include him in any of her social media posts to protect his privacy, which is why a recent photo the reality star shared earned a second look from fans who were surprised to see the father of her daughter Reign in it.
Toya proudly revealed a rare family photo on her Instagram recently which was taken during Robert's family reunion. In the pic she shared, Robert's face is partly shown as he looks down at their smiling daughter who's sitting on his lap. Toya appears to be clapping her hands while watching her boyfriend tend to their five-month-old.
"Reign had a ball at Daddy's reunion," Toya wrote in her caption leading fans to assume the little girl must have easily stolen hearts during the event.
As this is probably the first time fans are seeing Reign with her father in a photo, many commented on their uncanny similarity.
"Yess… that's beautiful. Reign looks just like her dad…may the blessings continue to come down on your family."
"Well, Toya maybe when you have a BOY he will look like you because baaaaaby Reign looks like her daddy and Nae looks like hers as well! Both are beautiful."
"This GORGEOUS little princess is her daddy's daughter all the way @toyawright !!! I mean, they look exactly alike!!! You have a very beautiful family!!! Both your daughters are stunning and so are you!!!"
"Girlfriend, She is her father's twin! You only carried both yo girls, and that's it!!! Dad's took over lol. Reign eyebrows are going to be thick and fleeky."
Toya and Robert welcomed Reign in February after announcing her pregnancy in September. At the time, many weren't aware of who her unborn child's father was but was later revealed to be the sports manager she'd already been dating for a year. Apart from being an NBA agent, Robert is also the owner of a clothing line and particularly very private. He doesn't have a Twitter account and his rumored Instagram account did not include photos of Toya.
While it's unclear whether Reign is Robert's first child, Toya is already a mother to Reginae Carter, her daughter with ex-husband Lil Wayne she gave birth to when she was only 15. Toya was also previously married for four years to 'Memphitz' Wright before separating in 2015.
Please fill in your e-mail so we can share with you our top stories!