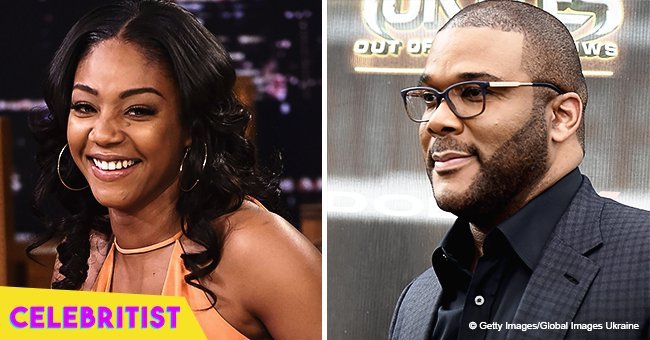 Tiffany Haddish 'cried so hard' over surprise $80k gift from Tyler Perry
Tiffany Haddish couldn't control her tears when she received a video from Tyler Perry revealing a lavish gift she'd been dreaming of having. The actress who stars in the director's latest film reveals no man has ever given her what Perry has just surprised her with.
Tiffany Haddish is a proud owner of a new car, thanks to her director and friend Tyler Perry who gave it to her as a gift and made her cry so hard in the process.
The comedian who stars in the media mogul's upcoming film 'Nobody's Fool' got the surprise of her life when she received a selfie video from Perry revealing his $80k gift to her.
Sharing the video to her fans a week later, Haddish revealed she "cried so hard" and "almost couldn't believe it" when she received the unexpected surprise. Explaining her disbelief, she wrote,
"1st off a man has never bought me a car out right. I have always had to make payments. This was just out the kindness of his heart And probably tired of me talking about it all the time and I didn't have to do anything for it but a Great job in our New Movie Nobody's Fool. Thank God for kind people that want to spread happiness. I am now on my way to see if this is Really!"
In the clip, Perry starts by telling Haddish about the importance of enjoying some of the money she earns and not just setting it all aside for savings. It was at the end of the speech that he introduced his surprise for her by saying,
"I wanted to give this to you and say you deserve it and I'm excited for you and all that's going on. Love you, Tiffany. Proud of you girl. It's all yours, here in L.A. waiting for you."
At that point, Perry walks towards his driveway to reveal a navy blue Tesla with a red ribbon on top of it. Two other photos accompanied the video providing a clearer view of his lavish gift.
It's no secret Tiffany dreamed of owning a Tesla which she revealed during her 38th birthday guesting on 'The Ellen DeGeneres Show' in December. At the time, she opened up to the show's host about wanting to own a Tesla, diamonds and to be friends with Oprah. Though DeGeneres didn't give her a Tesla, she did gift her with a one-week rental of the vehicle along with a cardboard cut-out of Oprah.
Meanwhile, Perry who did give her her dream car has been Haddish's mentor in the industry. Speaking to Variety this month, the 'Girls Trip' star who previously worked with the director on 'If Loving You Is Wrong' disclosed she would often ask him for advice on how to build an empire like his. Since then, Perry has become a friend and confidante who would give her insights and advice on how to handle certain things.
With Perry's latest gift to her, he's apparently not just her mentor, but her genie who makes her wishes come true.
Please fill in your e-mail so we can share with you our top stories!