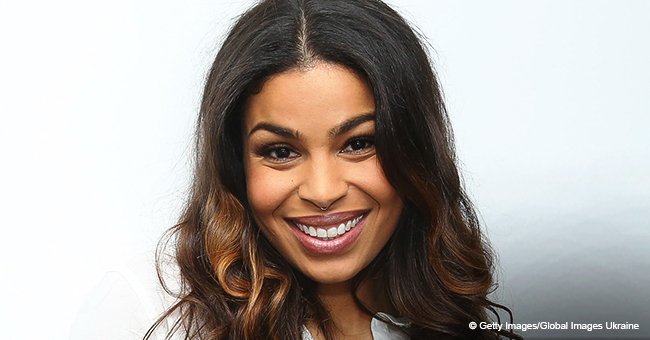 Jordin Sparks' baby son steals hearts flashing his big smile in new photo
Jordin Sparks is one proud mama, and she recently shared a precious photo of her son flashing a huge smile at the camera on Instagram.
Jordin Sparks and Dana Isaiah have had quite the relationship thus far after it was fast-tracked due to the arrival of their son. According to an interview with People, the "American Idol" champion and her husband Dana revealed that having a child this early on was not actually in their plans.
"We went from being two individuals to being one to preparing to bring a child into this world. It was a real whirl."
The couple welcomed their first child on May 2, just 10 short months after they eloped. They met in April 2017 and got married in an impromptu wedding ceremony in Hawaii just three months later. Both Dana and Jordin were clearly overwhelmed with their pregnancy news during the start of their journey, and they dove head-first into preparing for the arrival of their son.
The 28-year-old singer shared that the experience has changed their lives for good, saying that having a child has transformed them.
"It's transformed both of us. I feel like as humans we should always be trying to be better and trying to grow. With him, it's just expedited the process. I already know that Dana's infinitely better and I'm infinitely better just because DJ's here"
While it made them strong individually, the whole process of pregnancy and becoming parents has also been instrumental in the strengthening of the couple's relationship. Sparks made sure to lean on her husband during the tough parts of her pregnancy and go through each step of the way as a couple.
"We've bonded and connected even more. When we go out on date nights we talk more and it's just brought us together on a different level than before."
Now that they are getting a hang of parenthood, the couple has been sharing photos of their adorable little boy, Dana Isaiah Jr., or DJ as much as they can for their fans to enjoy.
In her most recent post, little DJ could be seen smiling angelically at the camera, with his hands pressed against each other. The adorable little boy was lying down on a pillow while at it, and his parents couldn't help but thank God for their bundle of joy.
"I second what my hubby said: "I mean. Come on. Thank you Lord for a happy boy" COME ON. I can't handle it. He's just so precious!"
Please fill in your e-mail so we can share with you our top stories!