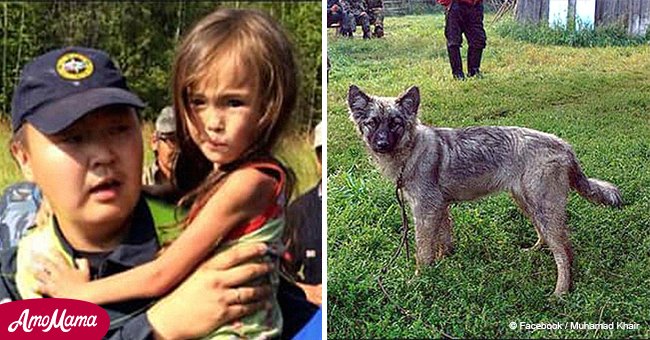 Valiant dog protects child left in the freezing cold for 11 days
Three-year-old Karina Chikitova was found alive after 11 freezing days thanks to her loyal dog.
Siberian Times on August 11, 2014, shared the story of the little girl's rescue in a remote area of the Sakha Republic after she went missing from Olom in Olyokminsky district.
Karina's mother believed the girl and her dog had followed her father to his native on July 29. There was no way to check with her husband due to the unavailability of phone connections.
Read more on our Twitter account @amomama_usa.
The truth was unraveled only after four days following which a search was launched.
The girl survived by eating wild berries and drinking river water. She was in an area infested by wild bears and wolves.
Karina had made a bed in the grass which made it impossible for the helicopters and drones to spot her.
On seeing the dog return back to Olom in Olyokminsky district, the family and rescue teams were upset.
Afanasiy Nikolayev, a spokesman for the Sakha Republic Rescue Service, stated that two days before they found Karina her puppy returned home and they lost hope.
They thought that with the dog beside her Karina had a chance at survival especially because the nights in Yakutia are extremely cold.
However, it was the puppy who emerged as a hero as he guided the rescuers to the lost girl. The rescuers found Karina the next day.
According to a report by NTV news, Karina was conscious and looked quite well. She was given food and drinks. She was initially sent to the district hospital with her mother and later on transferred to Yakutsk.
Karina refused to speak about how she spent her days except for the fact that she ate berries and drank water from the river.
Nikolayev stated how rescuers saw traces of her bare feet. They initially thought the girl would stay away from deep forests as she had lost her shoes.
However, after searching for only 20 meters, they found Karina sitting on the grass. They rushed, gave her tea and ran back with her to the car and doctors.
She was extremely light and fully conscious, said Nikolayev. According to Ekaterina Andreeva, a psychologist with the rescue team, Karina was conscious and she recalled what had happened. The little girl was even talking and reacting in a normal way.
The three-year-old was bitten by mosquitoes and other insects. She was admitted to the hospital where she was given her medicines to build up her strength. Surprisingly, she did not suffer from any major injuries or broken bones.
She was in the regular ward and was given food in small portions said Lyudmila Nikolaeva, head of children care department of Republican Hospital Number 1.
The unsung hero here was undoubtedly her dog, who was unnamed despite caring for her for nine days and returning to guide rescuers to save Karina.
Please fill in your e-mail so we can share with you our top stories!