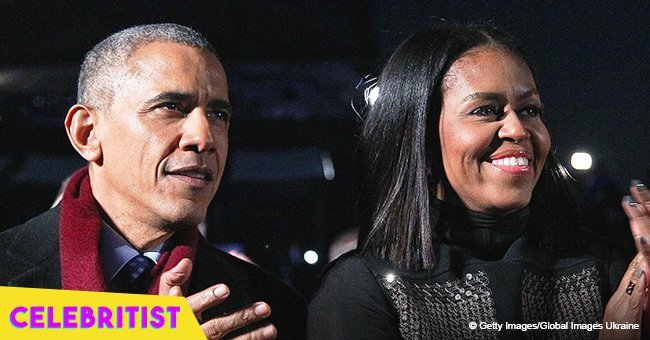 Barack & Michelle Obama cause a stir as they bust out dance moves at Beyoncé & Jay-Z concert
The Obamas are enjoying the little pleasures of life after clearing out the White House, and they were recently caught having lots of fun while attending Beyoncé and Jay Z's "On The Run II" concert in Maryland.
Michelle Obama was recently caught dancing and jumping with the crowd to Jay-Z's performance in Paris, and it seems like the former lady loved the show so much, that she had to take her husband Barack to experience it for himself.
On Saturday night, Beyoncé and her rapper husband took the stage at the FedExField in Landover, Maryland, on the third performance of the U.S leg of their sold-out tour. And while the audience was already excited for watching two of the most powerful performers of the industry in action, some of them were treated to a more "presidential" show.
People who were near the VIP boxes at the stadium were surprised to find out that former president Barack Obama, and his wife Michelle, were behind them enjoying the concert and having fun like no one was watching.
In videos shared to social media by several fans, Barack, 56, was caught throwing his hands in the air while bopping to a song that's hard to recognize thanks to the screaming fans. Obama kept his outfit casual by wearing a collared black t-shirt tucked into denim pants and a black belt.
The former first lady, 54, was also caught dancing around and jumping next to her husband while people surrounded them were busy pointing their cellphone cameras to them, instead of enjoying the actual concert that was taking place on the front.
It's a known fact that the Obamas and the Carters have a close friendship. Back in 2007, Beyoncé sang "At Last" during then-President Obama's first inauguration, and she later joined Michelle on her "Let's Move" campaign to prevent childhood obesity.
Obama, on the other hand, was in charge of giving the speech to induct Jay-Z as the first hip-hop artist in the Songwriters Hall of Fame last year.
"I like to think Mr. Carter and I understand each other. Nobody who met us as younger men would have expected us to be where we are today," he said in a video message.
"We know what it's like not to have a father around, we know what it's like not to come from much, and to know people who didn't get the same breaks that we did," he continued. "So, we try to prop open those doors of opportunity so that it's a little easier for those who come up behind us to succeed as well."
We're glad to know the Obamas are enjoying their time now that they're not constantly swamped up with responsibilities with the country, and fans who attended the concert definitely were up for a treat in the presence of two of the most powerful couples in the U.S.
Please fill in your e-mail so we can share with you our top stories!