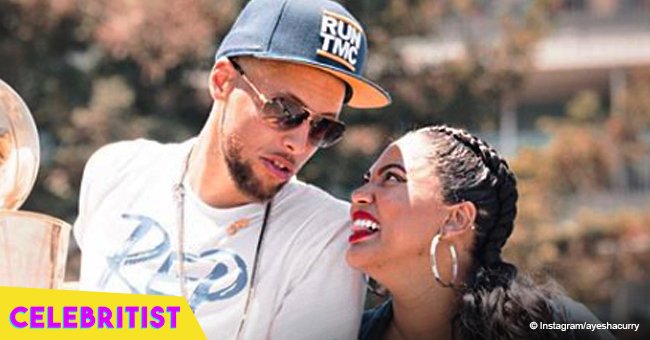 Steph Curry's wife warms hearts as she shares sweet cuddle with newborn son & heartfelt post
Ayesha and Stephen Curry recently welcomed a new member into their little family, and they're still on cloud nine. The chef and author melted hearts with an adorable pic cuddling her baby while talking about her struggles after giving birth.
The Currys went from being a family of four to one of five a few weeks ago, when Stephen announced to the world the birth of Canon W. Jack Curry three weeks before his due date. The baby boy has brought a lot of joy to the Golden State Warriors' player household, and his wife, Ayesha, still can't quite believe her life.
In a heartfelt post she wrote on Instagram, accompanied with an adorable photo cuddling her baby, Ayesha opened up about her struggles after her third pregnancy and how hard has been to accept that she's now a mother of three.
Her daughters Riley, 6 and Ryan, 3, have been of major help to the New York Times bestseller author, as she revealed on her lengthy post, saying:
"There have been lots of ups and downs though on my end. Wrapping my head around the fact that he was already here, struggles with nursing (which I hadn't experienced in the past) and of course coming to the realization that I do in fact only have two hands and what seems like half a brain."
Ayesha has been honest with the struggles of her pregnancy from day one. When she was in her second trimester, she opened up about the waves of nausea, the visits to the hospital and insomnia she went through, a product of a condition called hyperemesis. And following up with her sincere approach, she added on her caption:
"Just keeping it real, you lose a little bit with each baby and it never comes back ahah! I'm full of emotion today and just trying to soak in all of this new baby goodness because time feels like it's flying already!"
The 29-years-old also shared on her Go Inspo community the details about her baby's nursery and how she has been exploring, with her husband, the adventure of managing a home with three young kids on it.
"Right now life is all about navigating how to manage a household w three young children (beautiful chaos), pumping, nursing and changing diapers. If you were a fly on the wall there certainly would never be a dull moment. I will say no matter how many times you go through pregnancy and then phase into newborn life, it never becomes routine or normal."
We're glad to know that despite all the hardships that come with having a newborn, Ayesha and Stephen are doing their best to take care not only of their son but also of their two eldest daughters.
They make a beautiful family.
Please fill in your e-mail so we can share with you our top stories!