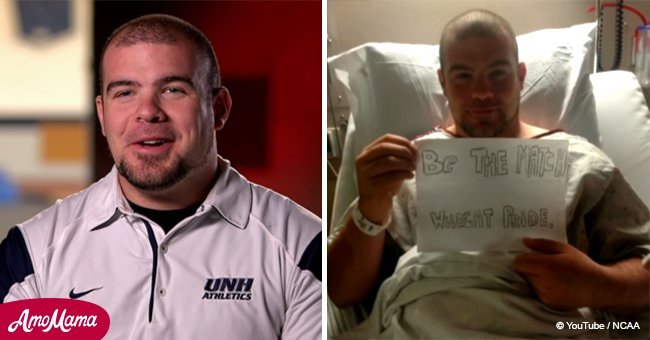 Cameron Lyle gave up his athletic career to save a stranger with leukemia's life
21-year-old Cameron Lyle said he did not even think twice and immediately decided that he wanted to help save a man's life even if it meant giving up his athletic career.
Lyle was one of the best students at the University of New Hampshire when it came to track and field. Just as he was at the peak of his athletic career, he received a call that changed everything.
Two years ago, Lyle registered to be a bone marrow donor. He was told at the time that the chances of him matching with a patient were slim to none.
Eventually, Lyle forgot all about it, which is why he was shocked when he received a call informing him that he was a match for a 28-year-old man he had never met.
Follow us on Twitter at AmoMama USA for more stories like this.
It was revealed by NBC News that the man had been given just months to live.
Upon receiving the call, Lyle did not hesitate and said that he was going to help the man who had leukemia.
Donating bone marrow is a tough process. It is also harder for the donor than the patient. On average, the patient needs five to ten cubic centimeters of marrow, but Lyle's recipient needed 1,800 cubic centimeters.
It was fortunate that both Lyle and the 28-year-old man had successful procedures.
Afterward, Lyle received a letter from his receiver. He said it was heartfelt and he received it on the same day he donated.
Not only was it a life-changing thing for the recipient, but for Lyle's as well.
At the time when he said yes to donate his bone marrow, it was close to the end of his athletic season and his final championship games. He knew then that it was the end of his ambitions to join the championship.
Nonetheless, everyone supported Lyle, even his coach James Boulander, who said Lyle's selfless act was "priceless."
Please fill in your e-mail so we can share with you our top stories!