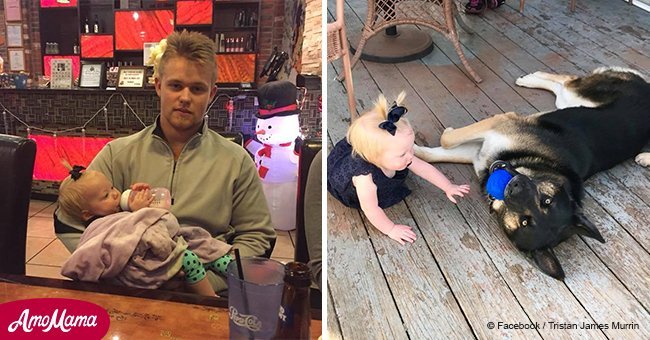 Family returns home to find walls covered in blood after pet dog defended their home
Tristan James Murrin returned home to find blood splattered all over the walls and soon realized that his best friend, Oden, a German shepherd had protected the house from an intruder.
Murrin revealed that his pet had attacked an intruder who broke in when no one was around. He uploaded a short clip on Facebook on August 11, 2017.
The video revealed the blood-stained floor and walls following the attack by the family's dog, Oden, on the night of August 10. Murrin had returned home to his house in this terrible state while living in Ashbrooke neighborhood, Chesterfield County, Virginia.
Murrin was extremely proud of his best friend as he showed the condition of the house, stained with blood. He said, "Whoever came to my house, you deserve this…" Read more on our Twitter account @amomama_usa.
He wrote that he was proud of his German shepherd who had protected his home and belongings during his absence.
'Such an amazing breed that's why everyone who doesn't have an actual dog should consider adopting or buying a dog.'
Tristan James Murrin, Facebook, August 11, 2017.
Speaking to WRIC, he said that the family did not find anything strange as they entered the front door. However, they saw the horrific scenes not long after they entered the house.
The intruder perhaps broke in completely unaware of the dog guarding the family at night. Thanks to Oden, the person could not take anything away. Upstairs was also completely covered in blood, he said.
Murrin added that the dog had never shown signs of aggression before. Hence, the sight of all the blood was a bit shocking for the family.
According to the man, Oden is a favorite of the entire community. The dog is loved by everyone, especially the children as he enjoys playing with them.
Murrin was thankful his dog was unhurt during the break-in and happy that he had stood his ground. The family did not lose anything, although the would-be-robbed seemed to have lost a lot of blood.
They knew the intruder would be in need of immediate medical attention, judging by the blood all over their house. The family hoped that by sharing the story, the person would get caught.
There were no arrests made at the time this story was released, though the police authorities continued their investigation into the crime.
Please fill in your e-mail so we can share with you our top stories!