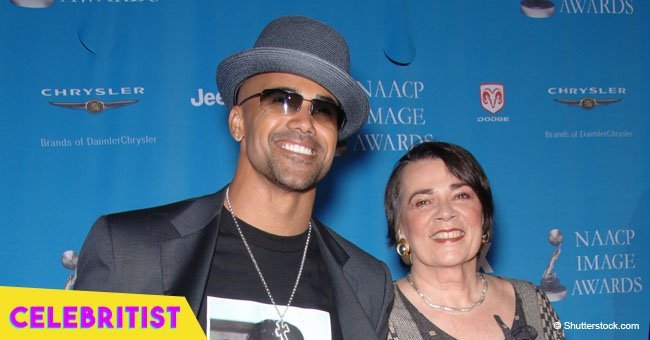 Shemar Moore's fiery dance for his mother's birthday
- Shemar Moore is better known for his role in CBS 'Criminal Minds,' and now he will be starring the new series 'S.W.A.T.'
- Moore has always shown his love for his mother publicly and he's always supporting her in the battle against MS.
Celebritist learned that the handsome actor just celebrated his mother's birthday while he was a guest in 'The Talk.'
Since Shemar is currently under promotions for his upcoming show, 'S.W.A.T,' he took his mother with him while he was visiting the set of the show and it seems like she enjoyed it as much as the public.
Moore took to Instagram to share a video of him dancing for his mom, Marilyn Wilson, who turned 74 years old.
Shemar and Marilyn have always been close since his father wasn't around through his childhood, but they became even closer when she got diagnosed with multiple sclerosis.
Moore revealed to People in 2015 that he was in denial at first about his 'super mom' being sick, he said:
I was like, 'Take a couple aspirin and go to sleep…
But when the disease started to debilitate Marilyn, he knew he had to face reality and help his mom.
So he moved Wilson from San Francisco to L.A so they could live closer and they started educating themselves about MS and how to fight it together.
He admitted that she still has her 'down' days, but most of the time shes just bouncing around and going out to have dinner with her friends.
He said:
She drives me crazy but she's my mother and I wouldn't have the life I have without her and how strong she was to give me the life that I have.'
Moore also participates every year in the 'Bike MS: Coastal Challenge,' in which he cycles through 100 miles to raise money and awareness on multiple sclerosis.
And there's no one more grateful for that than his mother.
Marilyn said:
'My quality of life is totally determined by Shemar's generosity.'
It''s a good thing that Moore and his mom have spoken about her illness so openly because that could drive people to search for the illness and learn more about it.
The Multiple Sclerosis Foundation estimates that more than 400,000 people in the United States and about 2.5 million people around the world have MS, and many of them get diagnosed years after getting sick.
We're glad that Shemar and his mother had the opportunity to celebrate another year of life together and we sent our better wishes to both of them!
What do you think of Shemar and his adorable mother?
Please fill in your e-mail so we can share with you our top stories!