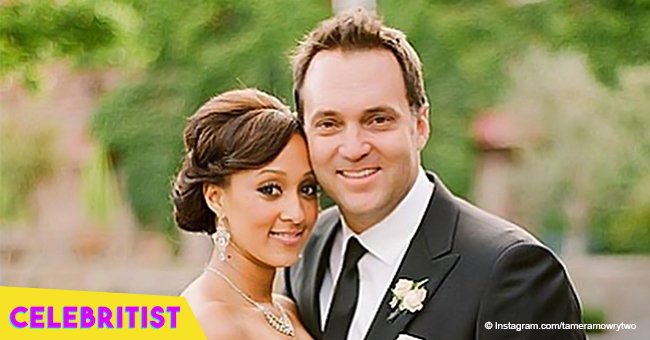 Tamera Mowry harshly slammed by critics after opening up about her interracial marriage
Before going on a family vacation to Europe with her husband and their kids, Tamera and Adam did an interview where they talked, once again, about the hatred they have received for their interracial marriage. While many people can sympathize with the actress, others are tired of her "whining."
Since they made their relationship known to the public, Tamera Mowry and Adam Housley have been getting a constant stream of ill-intended comments attacking their interracial marriage. It's been seven years for them, and essentially, nothing has changed.
People keep on spewing hate and mockery, and Tamera keeps on mentioning the issue whenever she has the chance, or at least that's what some of her followers are stating after the "The Real" host most recent interview with Yahoo's "It's Love."
In the interview, Tamera and Adam discussed how they met each other and their courtship process, and when the racial issue came up, Mowry mentioned that "We have a lot of outside things that kind of got in our way. Dealing with racial junk. It was when social media was taking off and it would come directly to us."
Is not the first time that Tamera mentions how bothered she has been by the comments. Back in 2014, she and twin sister Tia sat down for an interview for Oprah's "Where Are They Now?" and Tamera said through tears, how hurt she felt when she started to get hate because of choosing to marry a white man.
"It's hurtful because what my husband and I are so openly and we're fine with showing is love," she said.
"But people choose to look past love and spew hate. That's what hurts me because I've never experienced so much hate ever in my life. Ever... I get called 'white man's whore.' The new one was 'back in the day you cost $300, but now you're giving it to him for free.'"
While is totally understandable for Tamera to be upset about the situation and bring it up whenever she has the chance, to perhaps create awareness about the issue, some of her fans are tired of hearing the same repeatedly.
Read some of the things people had to say about the interview in the tweets below:
While many people say they don't really care about Adam being white, there are many others who have made their job to fill Tamera's comment section with racial slurs and insults.
Constantly hearing and reading many bad things about a loved one must be hard, so we totally understand Tamera's position in trying to defend her marriage and the father of her two beautiful kids whenever she has the chance to do it.
Please fill in your e-mail so we can share with you our top stories!