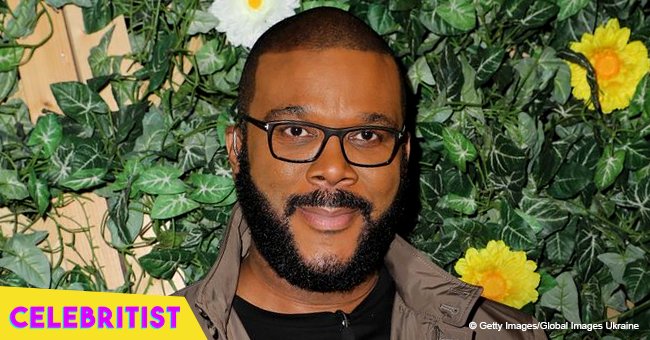 Tyler Perry's girlfriend shows off her toned figure in black, off-the-shoulder mini dress
The American actor, playwright, and filmmaker's model girlfriend may not be as famous as he is, but she has carved out a successful career of her own.
31-year-old Gelila Bekele is an Ethiopian model and social worker, and the mother of Tyler Perry's son, Aman Tyler Perry. The couple have been together since 2009, and seem to be going strong on their journey together.
She recently took to her Instagram account to share a photo of herself in a short black dress, enjoying some late afternoon fun as she posed for the photo with her hair blowing in the wind.
"Truth is the light - brother BoB" she captioned the beautiful image.
The model had on a short dress that fell to high up on her thighs, and featured a ruffle on the sweetheart neckline. The dress was strapless, and hugged her slim figure.
She also had a necklace on with a hanging pendant, and a number of bracelets. She was facing away from the sunshine, and had her long curly hair falling forward over her face as she leaned her chin down.
In the background, plenty of greenery and houses could be seen below the balcony, and in the distance were plenty of blue rolling hills.
Bekele was recently enjoying some time soaking up the sunshine in Italy, and shared plenty of photos from her adventures there.
One photo showed her enjoying a relaxing day on the coast of Italy, soaking up the sunshine in a small bikini.
In the shot, the model was looking back over her shoulder at the camera. The burnt orange bikini had a white and black feathered pattern on it, and a frilly trim around her chest. She also had on a small pair of dark round sunglasses.
"Sole mare felice #italia," she captioned the shot, which translates to "sun sea happy."
Another image, with the model wearing the same two-piece swimsuit, was taken at Montauk Point State Park in the state of New York. Bekele was relaxing on a wide hammock, enjoying the sunshine.
Bekele has been traveling to Ethiopia in a bid to get closer to her roots. She hopes that by learning about her origins and her culture, she will have a btter understanding of herself as well as others.
Tyler and Bekele have been dating since 2007, after they met at a Prince concert. In 2014, they welcomed their first son together, Aman Tyler Perry, and the actor revealed how he learned he was going to be a father.
"I get a FaceTime call and she's holding up the pregnancy stick," he told People Magazine. "I'm like, 'I guess this is happening.'"
Please fill in your e-mail so we can share with you our top stories!