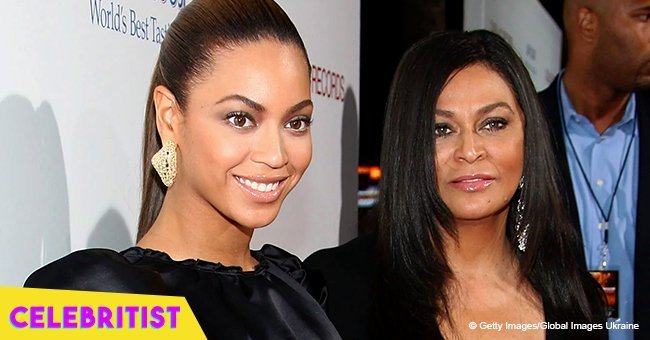 Tina Lawson warms hearts with throwback video of a dancing, 7-year-old Beyoncé in shoulder pads
If every mother has a million reasons to be proud of their kids, Tina Lawson has a million plus one. So, like any other parent on social media, she recently shared a clip from her daughter's childhood, and fans are amazed at how much Blue Ivy looks like Beyoncé.
Tina Lawson has been enjoying Beyoncé's reign on the entertainment as much as the singer. She travels around on tour with the star, gets to meet powerful people, and like her daughter, she also gives back to the community, all while looking stunning and not losing her humility.
Like any other proud mother, Lawson is always showing off her baby's achievements, and when she stumbled upon a video showing old footage of Beyoncé in her childhood, she just had to repost it to her Instagram account.
The short black and white clip portrays the "Love On Top" singer dancing around and wearing a button-down t-shirt with shoulder pads, and a denim skirt. In the background, a grown Beyoncé can be heard talking about her personality as a child and how she got into dancing in the first place.
"I was really shy and I did not speak much," Beyoncé narrates over the video.
"I was more comfortable with adults because my mother owned a hair salon, and I stayed in her salon, and I was in grown people's business all day and I listened to their conversations."
She continued:
"When I got on stage, my mother put me in dance lessons, and I really loved it. I think when they saw me perform, they were like, 'Man, she's in heaven."
Tina, 64, offered her own comment of the video on her caption as she wrote:
"I love Instagram because I look at clips and I find stuff that I don't even have myself really cool. Beyonce is 7 years old on here. Check out those shoulder pads."
The clip caused fans of the singer to fill Tina's comment section, but not because of the confidence and dance abilities Queen B showed on the video. Instead, most people were amazed at how much Blue Ivy looks like a little Beyoncé.
Instagram user @qed82 wrote:
"She looks just like Blue. I thought she was your grandbaby @mstinalawson beautiful."
While @kizoraksystems added,
"OMG Look at Blue!!! And everyone thinks she looks more like her Father. Beyonce and Blue literally look like identical twins here,"
And @charlottenbailey5 agreed:
"@mstinalawson Blue looks just like Beyonce!!!!!!! I'm her biggest fan!!!!! God Blessed you well with both of your babies!!"
Is clear that beauty runs in the family, and since Blue looks like her mother's twin, maybe she's carrying the talent in her veins as well. We'll have to wait and see.
Please fill in your e-mail so we can share with you our top stories!