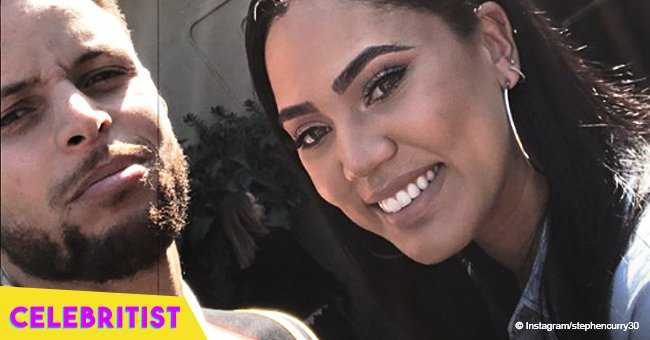 Stephen & Ayesha Curry melts hearts with pics & loving messages for their 7th anniversary

Steph and Ayesha Curry showed off their sweet sides by sharing some loving messages for one another on social media in time for their 7th anniversary.
The fans of the lovely couple already know that they are the ultimate "#goals", not only when it comes to their romance, but even with parenting and their respective careers. If there's another thing to add to their goals list, it's that they've reached seven whole years of marriage together!
The Currys are an open book when it comes to their lives, often sharing bits and pieces of their everyday activities on social media along with their personal and professional accomplishments. Fans have gotten accustomed to seeing updates from both Steph and Ayesha, and so the couple made sure to let their fans in on their wedding anniversary.
NBA star Steph Curry kicked off their special day by posting an array of sweet couple photos, expressing how blessed he is to have Ayesha by his side.
"Happy 7th Anniversary baby! Just yesterday- We looked at each other in awe of the many blessings God has granted us! And the sacrifices you make on a daily to make us go are forever noticed and appreciated. Can't imagine life without you. More love, more growth, more everything! 7/30/11 WSC x AC @ayeshacurry"
Of course, Ayesha had to share a sweet tribute to her husband as well, and that's exactly what she did. The celebrity chef gushed about Steph, calling their life together "but a dream".
"This walk with you has been but a dream. Year after year we don't think it could get any better and somehow it does. I hope we continue to make each other laugh and continue to walk with God in all we do. Thank you for reluctantly color coordinating w me on a weekly basis. Thank you for being the best example for our children and supporting me and encouraging me through everything. Love you so freaking much. It's our 7th wedding anny! Woohoo! So glad I stared into your eyes when we cheered!"
Essence recalled the lovely couple's love story, saying they met at church when they were just teenagers, long before their thriving careers. Despite knowing one another, none of them made a move. Now, however, Steph and Ayesha are partners in everything they do, from winning championship rings to opening up restaurants, to launching cookbooks. Aside from their successful careers as both a star basketball player and a chef, they are also raising three beautiful children together, Riley, Ryan, and Canon.
With their lives centered on God, the Curry family's relationship has continued to remain solid as a rock through the years, and we doubt this is something that is going to change.
Happy anniversary, Steph and Ayesha!
Please fill in your e-mail so we can share with you our top stories!