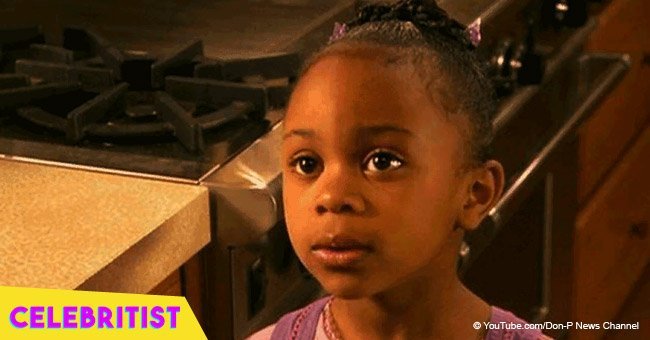 Remember Baby Girl from 'The Bernie Mac Show'? Now she has a son and looks just great
- Celebritist has learned from 'I Love Old School Music' that the little girl who played 'Baby Girl' in 'The Bernie Mac Show' is a mother and looks just great.
- Dee Dee Davis is now all grown up and she looks beautiful.
- The former child star who is now twenty one has had her first child.
Perhaps you were a fan of 'The Bernie Mac Show,' you probably won't recognize the little Bryana Thomkins anymore.
Dee Dee Davis is all grown up now, completely transformed from that little girl you knew.
Davis is a twenty-one-year-old comedian and actress.
She is still best known for her role as Bryana Thomkins in 'The Bernie Mac Show,' for which she won a Young Artist Award in 2004.
Davis starred as Mac's five-year-old niece, a role in which captured the hearts of many.
The show featured 104 episodes from 2001 to 2006.
The California-born actress has also co-starred in 'Strong Medicine', 'House' and 'The Game.'
Davis took a break from acting in 2007 after the sudden death of Mac, and she focused on school.
The actress is now a mother with her musical artist boyfriend, Smokey.
The 'Baby Girl' gave birth to her first child Logan Anthony Lee Jackson on June 4, 2017.
Though Davis loves keeping her life private, she could not keep the arrival of their child silent.
Prior to her delivery, she announced the happy news on her Instagram exposing baby bump.
It's a kind of eyebrow-raising news for her fans as well as the public that the 'Strong Medicine' star, Dee Dee Davis gave birth at the young age of twenty-one.
Davis is not married but she is in a relationship with Smokey.
She first met him at a fair, after which they started dating around December 2014.
Their relationship was confirmed after they were both sighted together at several events.
Davis is enjoying her life as a mom as she frequently shares pictures of themselves and their infant.
They also just celebrated their two years of being together.
Dee Dee now lives in Club Hills, Illinois with her partner and newborn baby.
What do you think about Davis becoming a mom at twenty-one?
Source:
I Love Old School Music.
Please fill in your e-mail so we can share with you our top stories!