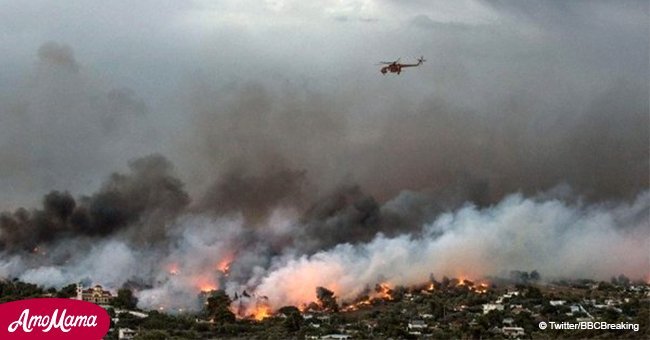 Tragic footage shows people desperately trying to escape deadly wildfires in Greece
More than dozens of people were caught on camera escaping the deadly Greek wildfire that has so far claimed the lives of about 83 people.
Daily Mail published the shocking video in their report, which was shot by a survivor on Monday, July 23. The video shows several people grouping together in the sea to avoid the flames. The residents in Mati, which is east of Athens, were at the 'epicenter' of the fire.
The people can be seen embracing each other as they try to find refuse amid the oceans while smoke fills the air all around them. Other people trapped in cars or on the edge of cliffs were forced to jump off to survive.
A fire brigade spokeswoman told the source that more than 1,000 homes were destroyed and damaged by the fire and a minimum of 300 vehicles was burned. Officials in Greece further informed that 30 out of the83 bodies recovered have been identified.
Follow us on Twitter to learn more.
To assist in the identification of the victims, forensic experts who have been involved in major disasters including the 2004 Indian Ocean Tsunami, have traveled to Athens. Germany's Federal Criminal Police are the part of the special team.
Earlier, they were deployed in 2004 Tsunami that killed more than 200,000 people as well as in 2002 mid-air collision of a Russian charter flight and a DHL cargo plane over southern Germany that claimed over 71 lives.
For more efficient identification process, the relatives of the victims are informed by the authorities to contact the city's mortuary and to give a DNA sample.
According to Athens Coroner Nikolaos Kalogrias, many of the bodies are burned so badly that they cannot be recognized at all.
However, members of the city's dental school have also been invited so that they can assist in the identification process of the dead bodies.
Meanwhile, Greek authorities are further investigating the possibility of the fire being started deliberately with the help of a few aerial photographs taken by US Naval planes and drones.
Please fill in your e-mail so we can share with you our top stories!