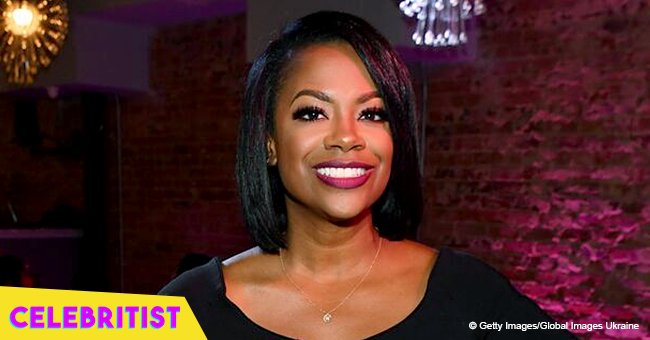 Kandi Burruss shares video of her look-alike mother showing off her dance skills
The American singer, songwriter, television personality, actress, and business woman has a very close relationship with her mother, something she demonstrates with lavish gifts and plenty of social media tributes.
42-year-old Kandi Burruss, known as one of the original stars of The Real Housewives of Atlanta, also has a famous mother, Mama Joyce, with whom she has a very strong bond.
She recently took to her Instagram account to share a video clip of her mother, happily dancing about her dining room, smiling gladly as she moved about the room.
"My mom @mamajoyce1_ is living her best life! She about to go on her 2nd week long trip in a month & already planning another 1. I said clearly this is your new theme song! @lilduval we rocking your theme song!" Burrruss captioned the clip.
In the footage, Mama Joyce wore a light purple t-shirt and a matching pair of trousers. She also had on a chunky gold necklace and matching bracelet, and wore her chin-length hair loose, letting it sway about as she did.
She was jiving about to Lil Duval's hit tune Smile Bitch.
Just three months ago, Burruss gifted her mother with a brand new car.
"Got my mom a new car today! I love you @mamajjoyce! It's a blessing to be able to do stuff like this for her." Burruss captioned the image of her mother smiling in the driver's seat.
In the multi-photo post, Burruss stood next to the open car door smiling away at the wonderful thing she had done for her.
While Mama Joyce opted for an all-black outfit and a pair of sunglasses, Burruss wore a white tank top, a pair of ripped black jeans, and a khaki green puffer jacket.
And Burruss' daughter, Riley Burruss, who celebrates her 16th birthday this summer, has been dropping major hints that she also wants a car for the milestone occasion.
"She sent all kinds of pictures of [cars] that she wants, but we don't know yet," Burruss said of her thoughts on the matter. "I don't know, it depends on how things go for the rest of the school year. She's been stepping her game up, so it might be good. We'll see."
But despite their close relationship, Burruss and her mother do have disagreements from time to time.
Back in April a segment of the show was shared to YouTube, where Burruss admitted she was rather put out a few years back when her mother, speaking about Burruss' husband Todd Tucker, had said that Burruss had "taken a lemon and made lemonade."
Burruss shared that Tucker had been upset by the comment, as he had been under the impression that his mother-in-law had liked him.
Fortunately, it seems they managed to smooth things over, as the mother-daughter duo are still just as close today, with Tucker still in the picture.
Please fill in your e-mail so we can share with you our top stories!