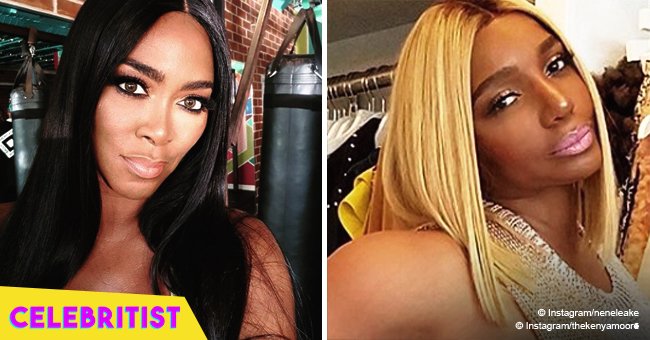 NeNe Leakes breaks silence on rumored beef with pregnant Kenya Moore
After weeks of speculation about the status of her relationship with Kenya Moore, NeNe Leakes has finally addressed the rumors that state she's been shading the former pageant queen all over social media.
"Real Housewives of Atlanta" season 11 started filming last month and the big absent this time seems to be Kenya Moore. She got married in secret last year and is currently expecting her first child with husband Marc Daly, however, it seems like the negotiations with Bravo TV got stuck and she's missing the shooting.
Disappointed fans have been putting the blame of Moore's lack of a contract on NeNe Leakes, as people seem to believe she has the power of pulling strings among the production of the show to decide who stays and who leaves.
The speculation about a beef between Moore and Leakes started a few weeks ago when an "RHOA" fan account posted an exclusive picture from a "Couples Night" that Nene hosted at the Chateau Elan Winery. Cynthia Bailey, Kandi Burrus, Porsha Williams and Marlo Hampton were all in attendance alongside their respective lovers, but Kenya was nowhere to be found.
People started to attack NeNe for not inviting Kenya and her husband to the gathering, lashing out on the star for the apparent "diss."
Later on, NeNe, who has been sharing some inspirational quotes on her Instagram for months, posted some street code advice reminding followers to "never bite the hand that feeds you."
Fans who like to read into everything assumed that Leakes was throwing shade at Kenya and the fact that she wasn't able to secure her peach for the new season.
Her comment section got so filled with people spewing hate, that NeNe had to do an Instagram live session on July 30 to put an end to all the nonsensical talk.
The 50-years-old stated that she hasn't seen Kenya since they wrapped out the final reunion last season and revealed that they have texted a few times but there's no beef going on between them at the moment.
"I really have no freaking clue where you guys are getting anything with Kenya and I from," she said.
"Kenya and I hadn't had an issue in, gosh, I don't even know how long. A couple of years? I guess? We haven't had an issue and it's so funny how some of the people are saying things like, 'NeNe didn't invite Kenya to a dinner' and all that."
Nene also reminded fans that she's shooting a show, and despite popular belief, she doesn't have any control over who's in it or not.
"Whether Kenya is shooting or not "Housewives…" has nothing to do with me. Each one of these girls works out their own contracts out and I'm not privy to it. And I'm not a lawyer on the show, I don't cast the show and I don't have anything to do with who comes on the show and who leaves the show."
While some fans are sad about Kenya not being on the next season of "RHOA," the 48-years-old mom to be is busy taking care of her other businesses as she prepares to become a mom before the end of the year.
Watch Nene's Instagram live below:
Please fill in your e-mail so we can share with you our top stories!