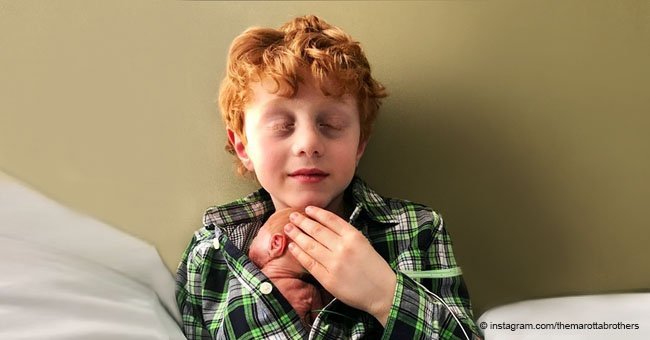 Boy overjoyed to hold his 'rainbow baby' brother for the first time (photo)
Elder brother Mikey had to wait for more than 11 days to finally hold his little brother, Jake, for the first time since his birth.
Fox8 News reported on July 27, 2018, that the six-year-old Mikey's wish finally came true.
Like every other child, Mikey Marotta of Melrose, Massachusetts, always wanted a younger sibling – preferably a brother. Unfortunately, despite trying for years, his parents Jessica and Michael thought this would remain only a dream.
Jessica told Love What Matters how despite conceiving Mikey easily, trying to get pregnant again was a major issue. Jessica soon lost hope but Mikey was still hopeful.
After a year of trying, Jessica visited a fertility specialist and got various tests done; she even underwent a surgery to remove fibroids from her uterus.
Finally, after she had given up hope, Jessica realized she was pregnant – on Mickey's fifth birthday. The entire family was thrilled with the news.
On a sad note, during her 11th week of pregnancy, Jessica had some complications that resulted in a miscarriage. The family lost a baby boy and Mikey did have his wish come true; only that it was an angel baby, said Jessica.
Post the miscarriage, Jessica and Michael decided to accept the reality that they would probably never have another child.
In an interview with the Today Show, Jessica said how they explained to Mickey that he may perhaps never get a younger brother.
He would perhaps be the only child in the family and as parents, they were comfortable with the idea.
The following summer was full of surprises as Jessica found herself to be pregnant once again. It was on Halloween that Jessica and Michael learned that they were having a boy.
They shared this news with Mickey who was happy that he would finally get the younger brother he wanted.
The baby, however, arrived nine weeks earlier. Jessica said that the baby had a growth complication, which led to an emergency C-section surgery resulting in the birth of Jake.
As the couple took Mikey to see Jake, they explained the need for each wire and every medical tube that was attached to the newly-born Jake. They also told Mikey about the significance of skin-to-skin contact for newly born babies.
After 11 days, when Mikey finally was allowed to hold Jake for the first time, he opened his shirt and held Jake to his chest.
Jessica told Love What Matters that after spending 62 days in NICU, Jake coming home was one of the happiest days for the family.
She revealed the special bond the brothers share. She also spoke about Mikey mastering the role of a big brother perfectly.
Please fill in your e-mail so we can share with you our top stories!