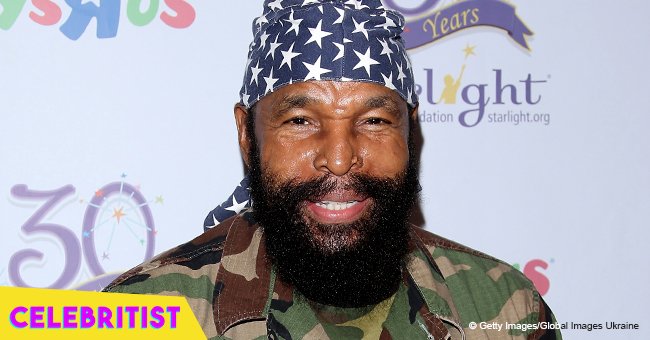 Here is what happened to Mr. T from 'A-Team'
Better known for his role as Clubber Lang in "Rocky III" and as a part of the '80s show "The A-Team," Mr. T has come a long way in his career as an entertainer. He's now 66-years-old and a cancer survivor.
Born as Laurence Tureaud, the actor turned professional wrestler is easily recognizable for his distinctive hairstyle and tough-looking appearance. Back in the day, he was also famous for using several gold chains, something that he described as a way of feeling the same way his ancestors who were slaves, felt with his chains.
However, he stopped using his heavy necklaces and bracelets after Hurricane Katrina hit in 2005, and he explained the reasoning behind his decision in an interview with For The Win a few years ago saying:
"Because, as a Christian, I felt it would be a sin against God to wear my gold when the people lost everything. I remember the bodies floating in the water, and I felt it would be disrespectful and insensitive to people who died, so I said I'd never wear my gold again. The only gold I have is the gold in my heart."
He has lent his voice to several animated characters, starting with an animated version of himself on the 1983 series "Mr. T." He also has credits on "Alice Through the Looking Glass," "Johnny Bravo," "The Simpsons," " Cloudy with a Chance of Meatballs," and the video game "Lego: The Adventures of Gollum and Mr. T."
In 2011, he traveled to London to host a show on BBC Three named "World's Craziest Fools," which showcased viral videos of people make themselves look like "fools." The show lasted for two seasons and was canceled in 2013.
He was diagnosed with T-Cell Lymphoma cancer in 1995, and after going through chemotherapy he came victorious against the disease. He now refers to that time in his life as a trial, as he explained:
"It was a test. And what is a test? A test is just a review of what you learned, and I was taught that the only students who don't like a test are the ones who didn't study. You'll have setbacks. The Bible said you fall seven times, you get up eight. You keep on getting up."
Last year, Mr. T joined season 24 of "Dancing with the Stars" and was paired with professional dancer Kym Herjavec. however, they were third to get eliminated, earning the 10th place in the competition.
Watch Mr. T talking about his cancer battle below:
Despite his tough reputation, Mr. T has become more of a motivational speaker, and his Twitter is filled with positivity as he relies on his faith to go through life and encourages all his fans to do the same.
Please fill in your e-mail so we can share with you our top stories!