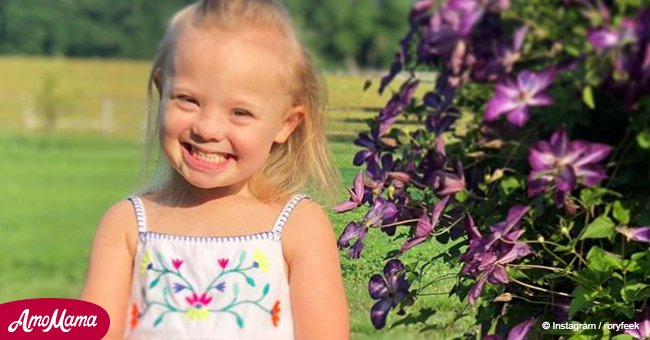 Indy Feek shows off her beautiful dancing talent to 'The Hokey Pokey'
Indy Feek captured the hearts of netizens as she danced to 'The Hokey Pokey' in an online clip.
Country music star Rory Reek shared the adorable video on Facebook, delighting thousands of fans. The short clip has been viewed almost 700,000 times and has drawn 2,000 comments.
Born on February 17, 2014, Indy has Down syndrome. She was only two years old when her mother died. Joey passed away on March 4, 2016, after two years of battling cervical cancer.
Follow us on our Twitter account @amomama_usa to learn more.
"Indy has come a long way and so darling to watch her grow. You have done a great job and Joey would be so proud of you both," commented Irene Johnson.
Wrote Jane Giers, "Praise God for the family little Indy has. Because of you all, she will be able to feel the love she so deserves... Her Momma is there in spirit for each of you."
Laurel Jacobs Wilson chimed in:
"She is BEYOND adorable!! Thank you for sharing her with all of us!! Her Mama would be so proud of all little Indy has accomplished."
Joey was diagnosed with cervical cancer just three months after giving birth to Indy. The singer was declared cancer-free after undergoing surgery and treatment.
But she fell ill again in June 2015. Doctors later found out that the cervical cancer had returned and metastasized to her colon. Joey entered Hospice in November of that year.
Joey blogged about her struggles with cancer and maintained a positive attitude and demeanor in her last weeks and months.
By January 2016, her morphine dose had quadrupled to keep the cancer pain under control.
"I'd like to tell you that she's doing great and is going to beat this thing. But I can't," Rory wrote on their blog.
"Yesterday with tears in her eyes and mine, Joey held my hand and told me that she has been having serious talks with Jesus. She said she told him that if He's ready to take her... she's ready to come home."
Please fill in your e-mail so we can share with you our top stories!