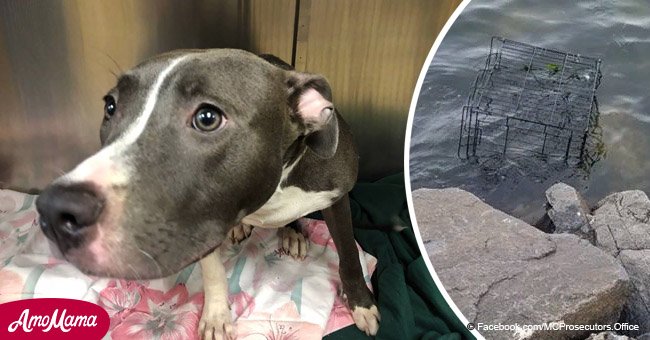 Help needed to identify suspect who locked a dog in a cage and left him to drown
New Jersey authorities are looking for a suspect who allegedly left a young pit bull to drown inside a cage on the edge of a river.
The SPCA is requiring the public's help after a resident rescued a 1-year-old pit bull in Veterans Memorial Park that was left inside a wire cage and nearly swallowed by the rising tides of the Sandy Hook Bay.
The black wire cage was placed on a small patch of sand between a bulkhead and the waters of the bay. The tide was coming up and was already lapping up against the cage, according to a Facebook post from the Monmouth County Prosecutor's Office, which is now investigating the incident.
According to a People report, the concerned neighbor climbed over the wall and rescued the dog. By the time police were called and Animal Control arrived on the scene, the cage was almost completely covered by the rising tide.
A statement on the Monmouth County Prosecutor's Office Facebook page says. "If not for the heroic rescue act of the good Samaritan, the dog likely would have drowned. Read more on our Twitter account @amomama_usa
Based on the tide level, it is estimated the dog was abandoned between 4 a.m. and 6 a.m. Investigators are doing what is in their hands to track down the person who would abandon such a sweet dog. If proven to be intentional, that person could face 3 to 5 years in prison.
According to the Monmouth County SPCA, the dog was named River and he is a bit shaken up, but in good physical shape and seems to have been well cared for all this time.
The Monmouth County SPCA is working along Monmouth County Prosecutor's Office to get justice for River. He did not have a microchip and that makes it hard to find the previous owner of River.
Anyone who has any information concerning the case please make contact with the MCPO Animal Cruelty Hot Line at 877-898-7297 or the Highlands Police Department at 732-872-1224.
Please fill in your e-mail so we can share with you our top stories!