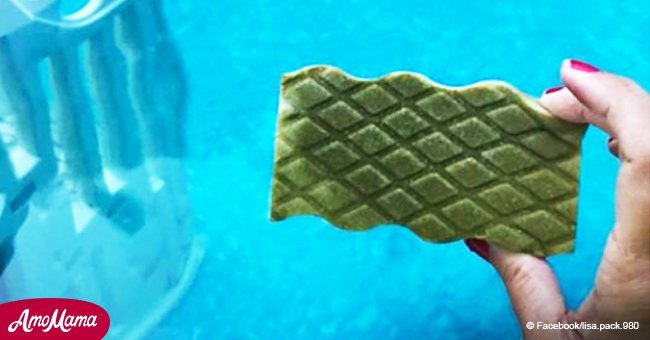 Grandmother cleaned cloudy swimming pool with a magic eraser
After Lisa Pack saw a pool-cleaning trick on the internet that seemed too good to be true, she knew she had to try it. Her audacity paid off and she was celebrated as a viral phenomenon.
The woman from Ohio took to Facebook to share her successful experiment putting into practice a hard to believe cleaning hack that involved a Mr. Clean Magic Eraser sponge, and her post ended up shared by 99.000 users.
The simple trick consists in leaving the above-mentioned product in the pool filter bucket overnight. There is nothing more to it, as Pack proved to the skeptics with her experience. Read more on our Twitter account @amomama_usa
'Everyone knows my pool is green by this time of the year. However, Whitney spotted this idea on Facebook and I figured why not try it, I had a box of Mr. Clean magic erasers lying around,' Pack started her post.
'My pool wasn't green but it looked like it was getting cloudy. I throw one of these in the skimmer basket and […) the cloudiness left and my sponge looks like this. I'm pretty excited to think something so cheap could help so much,' she added.
Source: Freepik.
As Simplemost reported, with the summer season starting, there are many people that would be interested in trying this tempting cleaning hack themselves, but some are worried about how safe it really is.
A rumor that has been circulating about Mr. Clean Magic Erasers posing a threat to its users due to the alleged presence of formaldehyde in its composition, but it has been debunked by the fact-checking site Snopes.
Although the rumor claiming that the product was banned from stores for safety reasons has been denied since 2007, and Snopes hasn't found any evidence of a recall for the product, there are still concerns about it.
'Any side effects? Chemical burns? Rashes?' asked user Heather Riley-Haussermann in the comments section of Pack's post.
As the fact-checking site quoted Procter & Gamble, the company that manufactures the sponge, assuring to the public that their product is harmless 'when used according to directions.'
'One ingredient in Magic Eraser […] contains the word "formaldehyde" in its chemical name. However, this ingredient is not formaldehyde and poses no health or safety risks,' they wrote.
Please fill in your e-mail so we can share with you our top stories!