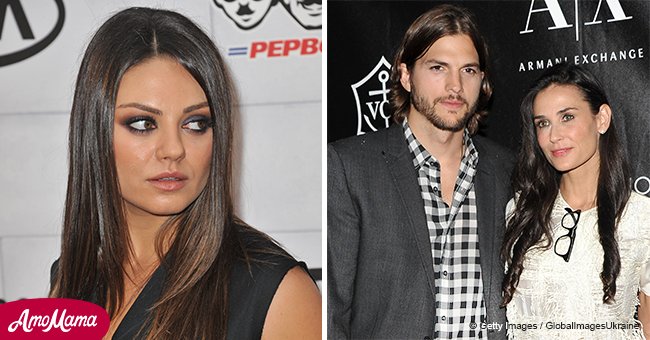 Mila Kunis candidly opens up about Ashton Kutcher's marriage to Demi Moore

Mila Kunis said she got insights into her husband Ashton Kutcher's prior marriage to Demi Moore.
On the July 30 episode of Marc Maron's "WTF" podcast, Kunis, 34, opened up about Kutcher's eight-year marriage to Moore, 55.
"They had, like, a normal, real relationship," the Spy Who Dumped Me actress told Maron, 54.
Follow us on our Twitter account @amomama_usa to learn more.
"They had three kids they were raising. It was, like, a normal life … Yeah, he was younger, but he loved those kids."
Kunis also said that Kutcher, 40, still keeps in touch with Moore's children with actor Bruce Willis - Rumer, Scout, and Tallulah Willis.
According to the star, she became more than friends with Kutcher after she unwittingly ogled him at an award show in 2012.
"I was looking around, and there was a really beautiful man from the back," she recalled. "I was literally like, 'Oh, he's kinda hot.' … And then he turned around, and I was like, 'Oh, my God, it's Kutch.' I thought it was the weirdest thing that I was checking this guy out, and it was someone that I had known forever."
Kunis and Kutcher began hooking up instead of dating. They coincidentally channeling their films at the time.
"I did a movie called Friends With Benefits. He did a movie that was very similar: No Strings Attached," she told Maron.
"We lived our movies out, where we were like, 'Let's just hook up. Let's have fun. We're both single. We both trust each other. Everything's great.' None of us wanted tension. OK, great. We hooked up for three months. And just like our movies, one of us caught feelings."
Kunis realized she had feelings for Kutcher only when he told her that he was dating someone.
"I felt like I got punched in the gut, literally overnight," she said. "He said something, and I was like … 'Oh, my God. I love this man, and I have to walk away because this is not the agreement that we had. And so I'm going to speak up.'"
The Black Swan actress decided to tell Kutcher about her feelings, and the next day, the actor asked her to move in with him.
"He was only single by that point for maybe a year, maybe a year and a half," she said on the podcast.
In October 2014, the couple welcomed daughter Wyatt. They tied the knot in July 2015 and welcomed son Dimitri in November 2016.
"He's one of the most brilliant human beings I've met in my entire life," Kunis told the host.
Please fill in your e-mail so we can share with you our top stories!