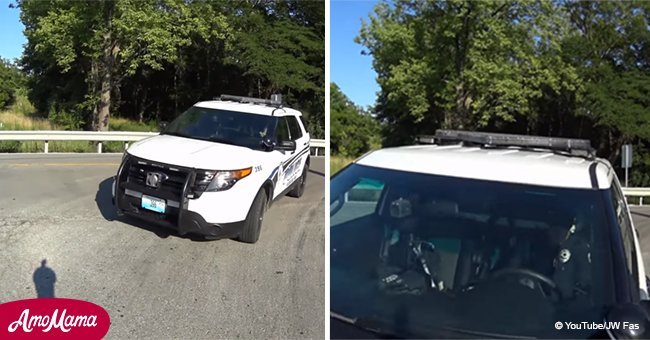 Police officer is distracted by his phone and hits a cyclist during a turn
A local police officer in Missouri was caught on tape hitting biker William Fasanello head-on at a turning because he got distracted by his phone while driving.
Fasanello uploaded the video on YouTube showing the surprising detail of the recklessness of the officer, which cost him his bike and several bruises and scrapes on his body.
The video opens with the biker cycling down an empty road. A camera attached to his helmet is recording his journey.
All of a sudden, he arrives by a crossroad, where he waits, motionless, perhaps deciding upon which route to take.
Suddenly, a police cruiser comes through from one of the roads and takes a turn onto the road where Fasanello is waiting still.
Follow us on Twitter to learn more.
The vehicle comes head-on at Fasanello and hits him, making the biker fall hard on the floor. The police officer stops his vehicle and jumps out of his car checking on the biker.
Fasanello screams at the officer in anger, "Why were you texting?" To this, the police officer argues, "I wasn't texting, I was looking at my phone."
The biker then questions him as to why he was looking at his phone in a turn. The police officer then accepts his mistake and simply says, "I know. It was my bad. I wasn't paying attention."
Fasanello then checks upon himself and admits that he feels like he can still walk. Then he asks the officer how his arm looked. The officer is visibly embarrassed at this point and he solemnly answers, "Your arm's fine. You're fine."
Toward the end of the video, Fasanello informed that the police officer filed his own report at the Missouri State Police department.
So other officers from the state police showed up and they did the accident report. Fasanello was also checked up by the paramedics but he refused to do an ER because he felt he was only "scraped and bruised."
He did not know what action was taken against the police officer but confirmed that he was tested with a Breathalyzer for alcohol as a part of the process.
Please fill in your e-mail so we can share with you our top stories!