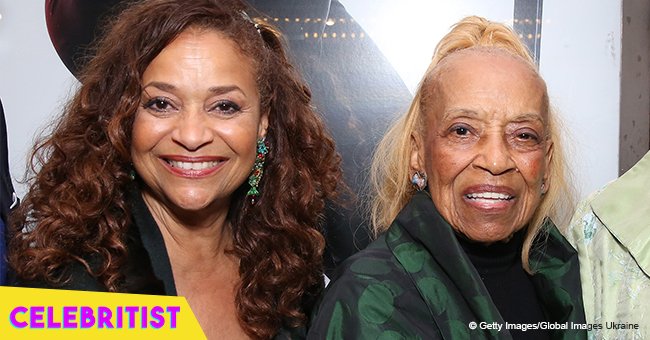 Debbie Allen's mother turns 95 & stuns in white dress in heartwarming pic

Debbie Allen's mother recently celebrated her 95th birthday and she looks young and spirited. It's not surprising since she's still very much involved in a unique outdoor education program she spearheaded back in the 70's.
Debbie Allen's mother just turned 95 and the actress took to her Instagram to greet her on her special day.
In the photo the 'Grey's Anatomy' star posted, Vivian Ayers Allen was all smiles as she stunned in a white dress with puffy sleeves and posed alongside another woman and a child. They were at a Hawaiian party to celebrate Debbie's medical drama's kick-off party and Vivian appropriately fashioned a lei around her neck.
"Happy Birthday Mommie!", Debbie wrote and accompanied her caption with a celebratory emoji along with a kiss mark.
It was only two months ago when Debbie accompanied her mother along with her sister Phylicia Rashad to the former site of the 95-year-old's school in Chester. Vivian was part of the last graduating class of Brainerd's Institute in 1939 which is now just a three-story brick building overlooking an open field in Chester.
The mother and daughters took it upon themselves to bring education back to Brainerd by conducting 'Workshops in Open Fields' for the whole month of June as a means of giving back and sharing their accomplishments to others.
Vivian, a native of Chester is an author, a Pullitzer Prize-nominated poet and cultural activist. She studied the Mayan culture in Mexico and worked for NASA. Debbie revealed that during the 1960's her mother's poetry was read by astronauts while images of the flight were being shown.
For the Breinerd workshop, Vivian hired teachers to educate pre-schoolers through hands-on activities in science, reading, storytelling, and others. She believed the land, sunlight, and trees surrounding the school was a perfect place for children to appreciate learning in the outdoors.
This is not the first time Vivian spearheaded an open field workshop. In fact, she's been doing this since the 1970's in Houston, Texas where she relocated. She returned to Chester 10 years ago and wanted to do the same for her hometown.
Now with the help of her daughters, Vivian continues to inspire others and educate children. No wonder she looks youthful and full of life at 95.
Please fill in your e-mail so we can share with you our top stories!