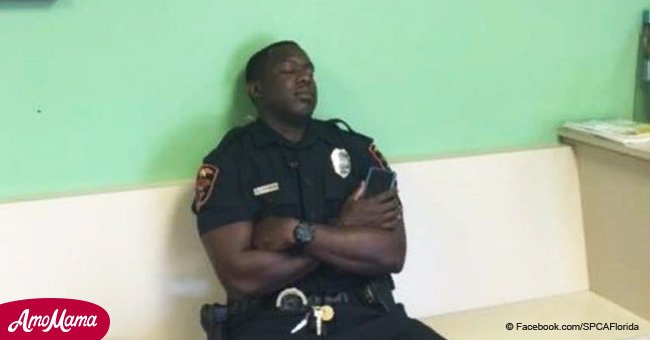 Exhausted police officer refuses to rest until he's sure puppy he saved is taken care of
Despite a long shift and exhaustion, Officer Kareen Garibaldi refused to give up on Hope, an abandoned puppy he had found.
The officer visited the Local SPCA for the puppy's medical check-up when safety manager Connie Johnson clicked a photo of him and posted it on Facebook on May 24, 2016.
Officer Garibaldi works for Florida's Lakeland Police Department and extends help to both humans and the four-legged creatures.
While patrolling the neighborhood, Garibaldi found a stray dog – a small pit bull-Boxer mix. The dog had no tags so he brought it back to the station till he could decide what to with the dog.
He was not able to track down the owners of the dog, even the next day. He then got the dog to the Local SPCA to get her medically checked.
This, after doing three shifts back-to-back. Undoubtedly, the officer was exhausted. He, however, refused to sleep till he ensured the safety of the little dog.
On entering the shelter, the following day, the safety manager Connie Johnson saw Garibaldi sleeping near the dog. He found it reassuring that the officer wanted the dog to get help desperately.
According to Connie, this was such a selfless deed. Despite being tired, the officer put the dog before personal needs.
He only wanted the dog to survive. She added that at one point, Garibaldi got up to see if the dog was alright and then went right back to sleep.
Hope had a few mites but was otherwise quite healthy. The question still remained what to do as the owners were still untraceable. Officer Garibaldi chose to take her back to the station with him.
At the station, one of the dispatchers adopted Hope immediately. After a few weeks, the dispatcher reported how Hope had settled in and was even learning to respond to basic commands, according to Inspire More.
The police department also shared the story on social media following which people started thanking Officer Garibaldi for ensuring that the dog got a good home.
Congressman Dennis A. Ross heard the story soon after. A dog owner himself, he decided to personally award the Hometown Hero Award at the SPCA's yearly event to Officer Garibaldi.
Please fill in your e-mail so we can share with you our top stories!