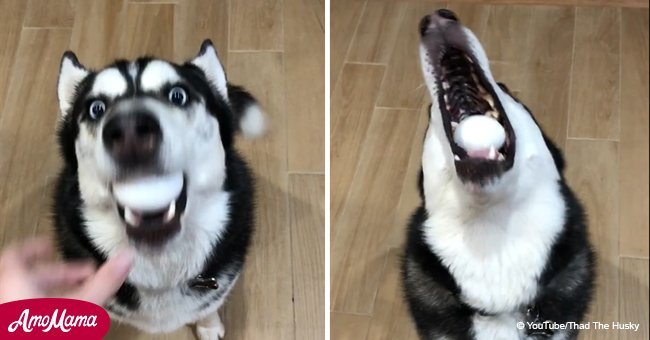 Here's the dog 'egg challenge' that has the internet in a frenzy

The canine "egg challenge" is the new viral sensation taking over the world
The Internet is awash with clips of dogs trying to hold fragile eggs with their teeth, but how did this unusual 'challenge' begin?
Laura Dreyfuss, whose aunt is a veterinarian technician, told her that a Golden Retriever's soft mouth allows it to hold an egg in its jaws without breaking it.
So she tested it with her own Golden Retriever and filmed it. The dog held the egg for nearly a whole minute and so gently he left neither cracks nor dents on the fragile eggshell.
"We're mostly free from salmonella in this country, but it does exist in certain eggs and elsewhere. The other risk is it gets trapped and sticks at the back of their throat."
Dr. Dominic Barfield, the Royal Veterinary College
The post of the Golden Retriever holding the egg had other dog owners trying out the 'trick' with their pooches, and posting the results.
Suddenly the "egg challenge" was the hottest new sensation on the internet. So how is the challenge performed? The dog owner puts a whole uncooked egg into the dog's mouth and lets it sit there for several seconds.
Read more about the 'dog challenge' on our Twitter account @amomama_usa.
The "challenge" is for the dog to hold the egg without breaking it, or piercing the shell with its teeth, and since Dreyfuss posted the original video on the 4th of February 2018, thousands of Golden Retriever owners have tried it out on their dogs, and now other breeds are participating.
Although none of the dog owners have any intention of harming their pets, the challenge might prove to be potentially dangerous.
Dr. Dominic Barfield, the Royal Veterinary College in the UK and Dr. Paula Parker, the president of the Australian Veterinary Association, have both expressed the opinion that the 'egg challenge' may be hazardous to the animals.
The dog might choke if the egg becomes lodged in its throat, but another risk is an infection by the salmonella bacteria, which is present in uncooked eggs.
Dog owners are advised to be very careful when attempting to take on the 'egg challenge' with their pets and to consider all the factors to a game that might have dire consequences.
Please fill in your e-mail so we can share with you our top stories!