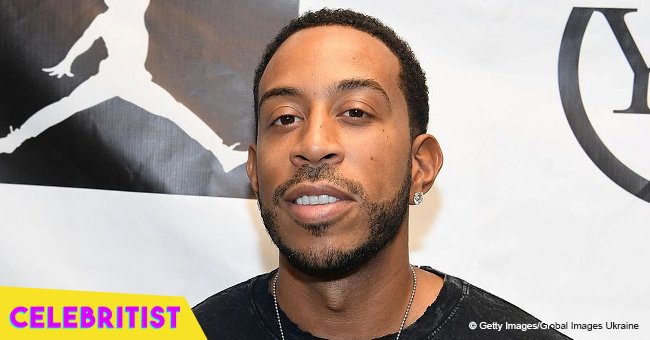 Ludacris admires wife by sharing photo of her in tight, black dress with split & high-heeled boots
The rapper and actor is a man in love and is not afraid to show it off. He recently took to Instagram to share a beautiful pic of his wife, Eudoxie Mbouguiengue, days after she returned from a trip to her homeland.
Ludacris and Eudoxie surprised fans on December 2014 when the rapper announced he had popped the question in a romantic mile high proposal. The "Fast and Furious" star took his then long-time girlfriend on a private jet with some friends, and once the plane was high on the clouds, the flew over a field where "Eudoxie Will You Marry Me?" was spelled out on the grass.
While fans assumed the wedding would take some time, the couple was not patient enough to wait and got married two weeks after getting engaged. The private affair was everything Eudoxie dreamed and more, as she revealed later to E! News, saying:
"We chose a simple and intimate wedding that was perfect for us. We wanted the day to be about our loving commitment to each other."
Since then, Ludacris and Eudoxie have shown nothing but love and support for each other. They share daughter Cadence Gaëlle, 3, and Ludacris is also the father to two more girls, Cai and Karma, from previous relationships.
The 40-years-old recently took to Instagram to share a photo of his beautiful wife as part of the social media trend "#wcw" which stands for "women crush Wednesday." On the pic, Eudoxie looks gorgeous wearing a tight black skirt with a slit in the middle, a black sleeveless top with lace details, knee-high boots, and a white purse.
"Sheesh," wrote the rapper in the caption, adding fire and smoke emojis to express without words how hot he finds his wife.
Eudoxie, on the other hand, just returned home from a visit to Gabon, where she was born. She took little Cadence along to see her mother and grandmother and took the opportunity to share beautiful pics from the city on Instagram, showing off its food, vibrant colors, and traditional clothes.
The 32-years-old posted a special family shot with her daughter and grandparents. In the pic, Eudoxie's stylish grandfather is holding Cadence as Eudoxie smiles brightly to the camera. She explained how special was the reunion in her caption as she wrote:
"Cadence meets her great-grandparents. This moment has always been a dream of mine and of my grandfather. My grandfather for years used to tell me it was time for me to have a kid because he felt he didn't have much time left with us. I was the last one of his grandkids to have a child."
"It didn't matter how many times I told him I was still in school and that I wanted to wait until my relationship was stable... Grandpa said, "have the baby, bring him here and I'll take care of him until you are stable." He is the best and most loving."
Ludacris also shared the same photo, showing how important is family for the couple.
Please fill in your e-mail so we can share with you our top stories!